Nandita Mukand on Silence
December 13, 8:00am - 9:30am +08. Hosted at the Hive Carpenter
part of a series on Silence
About the speaker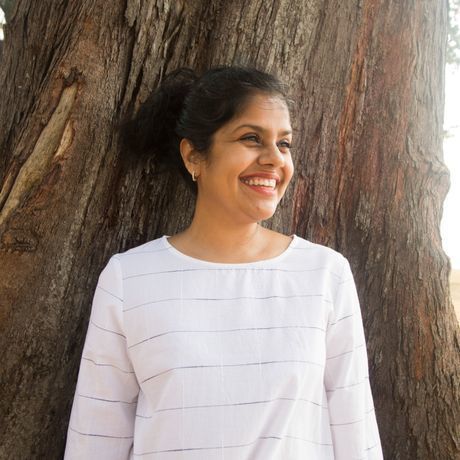 Nandita Mukand is a Singapore-based artist whose practice encompasses sculpture, installation and painting and whose work has been exhibited and collected in Singapore and also internationally. Her practice is concerned with questioning the boundaries between the artificial and the natural and investigating how choosing the artificial over the natural continuously changes us as individuals, and by extension, transforms the collective psyche of our world. Drawing upon her interest in ontology, neuroplasticity, quantum physics and buddhist texts her work often explores observations of growth and decay in the wilderness in conjunction with the workings of the urban mind.
She fashions urban materials into organic forms reminiscent of natural growth and decay. In other installations she works with natural materials like dead plants, dried flowers and seeds. Whether synthetic or organic, building up of the sculptures and installations often involves repetitive processes that are meditative. Ideas of growth and decay, layers of accretion and erosion as markers of time, resilience in the face of adversity, the grace imbibed in adapting organically to circumstances, the beauty of chaos-these are some of the themes that form the backdrop of her artistic practice.
Nandita's work was included in the OpenART Biennale 2017, Sweden and Imaginarium: To the Ends of the Earth, Singapore Art Museum. Other notable exhibitions include solo shows : Mind(less) Wilderness (2019), Forest Weft, City Warp (2017-2018),The Materiality of Time (2015) and group shows : From Lost Roots to Urban Meadows, The Private Museum, Singapore (2019), Exploring BigCI, Hawkesbury Regional Gallery, Australia (2015), Untapped,Chan Hampe Gallery, Singapore (2016), Fundacio L'Olivar Summer Exhibition,Spain (2016).
She has been awarded artist residencies by the Fundacio L'Olivar in Spain, the Hawkesbury Regional Gallery, Australia and the Bilpin International Ground for Creative Initiatives, Australia, all of which have enabled her to deepen her research into the natural world.
Having quit a successful corporate career with Proctor and Gamble to devote herself full-time to art making, Nandita graduated with a Bachelor of Fine Arts (First Class) from Goldsmiths, College of London via LASALLE College of the Arts, Singapore. She received the LASALLE Award for Excellence for outstanding student of the year. Nandita is also an alumna of the Indian Institute of Management, Calcutta and has a degree in Electronics Engineering.
Local partners
Musketeers Coffee was co-founded by Jairus and Julien who were 2 complete strangers prior to their previous place of work.
Just like how we strongly feel that Coffee can be that catalyst to bring people closer to each other, it is of no surprise that this company was started out by that same belief.
With a strong passion and love for coffee, you can rest assured that along with the Musketeers' years of experience, your event will get that caffeinated boost it requires.
The Hive is a network of coworking spaces across Asia and is home to many startups and growth-minded companies, making it a perfect spot for all entrepreneurs to develop their journey and share their stories. More than just coworking, we believe in being the catalyst for integrated business opportunities, partnerships and events through our vibrant community and spaces worldwide.
Additional details
Join us for the last CreativeMornings event for the year at the Hive Carpenter. We hope to see you there!
SPECIAL THANKS TO…
OUR DRINKS SPONSOR: Musketeers Coffee, who will fuel us with their specialty coffees bright and early morning.
Do bring along your own mug or reusable cup to get coffee! Help us make our events to be more sustainable and free of disposable cups.
OUR VENUE SPONSOR: The Hive Carpenter, Address: Carpenter Haus, 36 Carpenter Street, Singapore, 059915
GETTING THERE By MRT: Clarke Quay MRT Station
Traffic is unpredictable in the area during mornings, so do try and take public transport if possible.
Location
Hosted at the Hive Carpenter
The Hive Carpenter Carpenter Haus, 36 Carpenter Street
Singapore, Singapore 059915
When December 13, 2019
8:00am - 9:30am