Matt Poley
– Hosted at Herman Miller Showroom
part of a series on Chance
About the speaker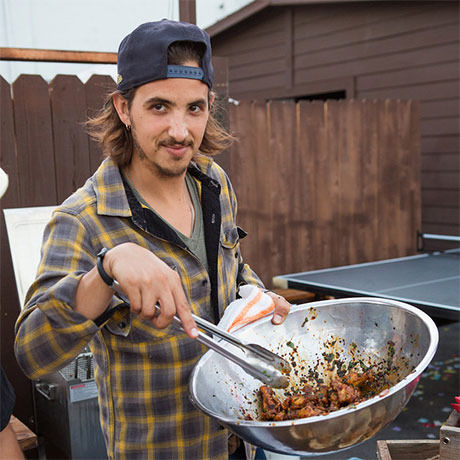 In May of 2009, Matt Poley and Tara Maxey zipped a pasta machine into a backpack and ventured out during off hours of their regular kitchen jobs to set up shop in commercial kitchens around town—basically wherever would have them. Whether from delirium or just a quirky culinary vision, the Lasagna Cupcake™ was born: comfort food to fit the palm of your hand. Catering gigs followed and as work got busier, the two hired friends and called themselves Heirloom LA.
Originally from Clarkston, MI, outside Detroit, Executive Chef/Co-Owner Matt Poley began "catering" at an early age, cooking for friends and family at high school tail-gate parties before football games. In 2004, he moved to Los Angeles, where he was classically trained by Gino Angelini of Angelini Osteria and from there, sent to intern at the two-star restaurant, Vissani, near Orvieto, Italy. Centrally based on a small farm and completely self-contained, this was where Matt learned the value of personally knowing where he sources his ingredients. Matt continues this tradition at Heirloom LA, seeking out small farms and humanely raised livestock for the fresh ingredients in his dishes.
Local partners
Media Temple is a leader in web and cloud hosting. Media Temple hosts everything from artsy design blogs to huge social networks. What's your big idea? (mt) would love to help you out. Learn more about their clients and hosting plans.
Shutterstock is proud to serve as CreativeMornings' Official Partner for Visual Inspiration, and a local sponsor of CreativeMornings LA. With more than 65 million photos, vectors, illustrations and videos and music clips—and thousands more added daily—Shutterstock provides elements for great creative work. Together with CreativeMornings, Shutterstock supports conversation, community, and professional development for creative people worldwide.
Location
Hosted at Herman Miller Showroom
3641 Holdrege Ave, Suite 100
Culver City, CA United States 90016
When
–