Master Ayub
May 25, 10:30pm - 1:00am PKT. Hosted at Chattha's
part of a series on Commitment
About the speaker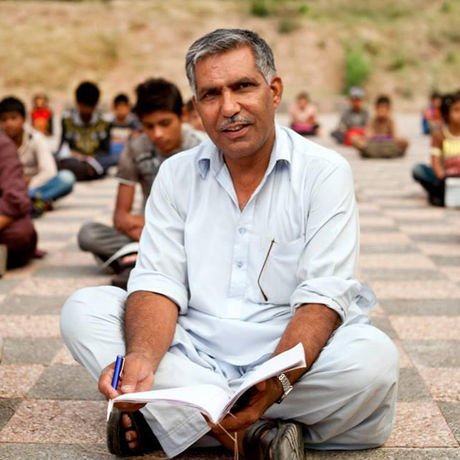 Master Ayub is a fireman, a a civil defence worker. The year 1988 marked the Ojhri Camp disaster in which an ammunitions depot in Rawalpindi exploded, killing more than 1,300 people. As a fireman, Ayub saw the human face of this tragedy and his view of the world was changed forever.
Living in the nation's capital, Ayub saw poverty all around him and vowed to make a difference, however small. So one day he went to Supermarket, an elite shopping district in Islamabad, gathered up a few children, and decided to teach them how to read and write in a "Public Park". At first it wasn't easy but once a few children were reading and writing fluently, parents began to approach him, asking him to teach their children. That park, located in one of Islamabad's most prestigious neighbourhoods, is where he continues to teach to this day.
These days, Ayub's informal school accommodates between 200 and 300 students each year. In the last 35 years, Master Ayub, as he is known, has taught thousands of children from the most impoverished families in Islamabad.
While many individuals across the country are working hard to make sure that Pakistan's children have a better future, few have done so as tirelessly for so many years and with so little support. Master Ayub is an inspiration to us all, and a reminder that all it takes to transform the lives of thousands of children is one person with a dream to help others.
Local partners
Chattha's is a family restaurant located in F-10, Islamabad. They are famous for their delicious Pakistani and Indian cuisine. Chattha's has been involved in the food industry for decades, and is one of the first names in quality grains and spices. From desi ghee and makhan to rice, spices and the desi chicken, we source everything from reliable farmers.
SVA is a community of art and visual enthusiasts. School of Visual Aesthetics is the initiative of "Concept one" studios that provide Event Photography services in Islamabad. SVA provides high quality free and paid photography and videography workshops. The idea is to empower youth with the right skills.
We are a creative digital and IT agency located in Islamabad & UK. They provide business promotion and marketing, web designing and development, graphic designing, software & mobile application development, Public Relations, Video Production, Photography, Branding and content writing. They also serve in Short Film Documentary, Logo and Animations, Business Promotion and Marketing activities.
Additional details
Important
This month's event is going to be a small gathering of up to 30-40 people at "Sehri". We also need to be super sure about the exact number of people coming to the event so please register only if you are 99.99% sure that you are coming.
Fundraising for Master Ayub
Ramazan is a time for us to reflect, revive and purify ourselves. In the essence of this month's blessings and Master Ayub as our speaker, we are also doing a donation drive for him.
We would request our attendees to contribute to his cause at the event. It's not mandatory and any amount is acceptable. Its just a small kind gesture from Islamabad's CM community to support Master Ayub and his cause.
Location
Hosted at Chattha's
Street 14, Tariq Market, F-10/2, Islamabad, Pakistan
Islamabad, Capital 44000
When May 25, 2018
10:30pm - 1:00am