Martin Welz
– Hosted at Friends of Design - Academy of Digital Arts
part of a series on Compassion
About the speaker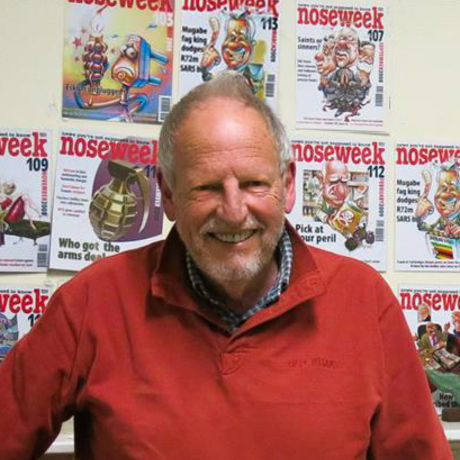 The Journalist Who's Every Dishonest South African's Biggest Nightmare
Martin's mother had been a journalist in Paris, but in South Africa became a shopkeeper (in Worcester) selling "all the things she liked" - refined household crockery and furnishings imported from Europe, Persian rugs, antique Chinese porcelain and books. His father was the then famous artist Jean Welz, so he was brought up looking at art, helping in the shop, playing rugby (not very well) and reading at least two newspapers a day.
After several civil service positions while studying law part-time Martin became, in turn, head of the Sunday Times's Pretoria bureau (where he reported extensively on the assassination of Dr Robert Smit and on the so-called Information Scandal – that era's equivalent of the Arms Deal), Parliamentary Correspondent for the Sunday Express (where his reports led to the resignation of three cabinet ministers: Hennie van der Walt, Pietie du Plessis and Fanie Botha), and head of Investigations at Rapport (where he exposed the so-called "Kubus" pyramid scheme, probably the biggest consumer fraud of the century).
Martin spent a year in London gaining insight into the Sicilian mafia and how it operates worldwide, including in South Africa, and for three years running visited America on the trail of the US's biggest ever postal fraud – the foreign offshoot of SA's Kubus scheme.
In 1987 he returned to Cape Town to work as a freelance journalist and copywriter.
In 1993 Martin started Noseweek with R60 000 capital provided by friends. The first cover had then Fair Lady editor Jane Rafaelly in a full-frontal nude mockup and a lead story that revealed that SA's two largest law firms, Sonnenbergs (now ENS) and Webber Wentzel were helping wealthy clients devise seriously dicey – and fraudulent – schemes to smuggle their millions abroad.
Amongst his many awards, in 2003 he received the Mondi Premier Award for Business Journalism and shortly thereafter the Sanlam Award for services to journalism.
Twenty-four years later Noseweek and Martin are still to be found battling on the front-line.
Local partners
Additional details
Meet and greet upstairs at the Friends of Design Academy for a complimentary coffee and breakfast followed by a 20 min talk.
Location
Hosted at Friends of Design - Academy of Digital Arts
186 Bree Street
Cape Town, South Africa 8000
When
–