Mario Hossen
– Hosted at Sputnik
part of a series on Sound
About the speaker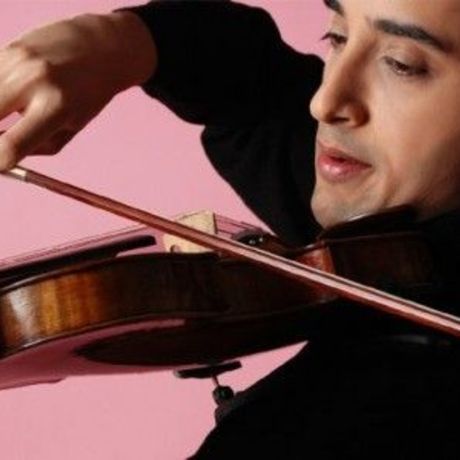 Talking about sound, our senses inevitably turn towards the sounds of music. And music leads us to an extraordinary person, who has gathered a lot of different worlds and cultures within his soul, and who for a reason is referred to as the reborn Paganini – Mario Hossen.
Two years ago Mario and his violin enchanted us with indescribable lightness, and today we are happy that we will be able to sit down and talk to him up close. Mario Hossen will look at the topic of sound, taking us through Pythagoreanism, mathematics and the planetary echo. We will look at sound as energy and we'll travel through the examples of time.
Mario Hossen received his musical education in Sofia, Vienna and Paris. He made his debut as a soloist with an orchestra at the age of eight. His teachers included great pedagogues such as Michael Frischenschlager and Gérard Poulet. As a concert soloist of international acclaim, Mario Hossen has performed with renowned orchestras such as the English Chamber Orchestra, the Tchaikovsky Symphony Orchestra of Moscow Radio, the Bruckner Orchestra Linz, the Chamber Orchestra della Scala di Milano, the Academy of St. Martin in the Fields, the Royal Philharmonic, the Orquesta Sinfónica del Estado de México, the Prague Radio Symphony Orchestra, the Bulgarian National Radio Orchestra and the Nordwestdeutsche Philharmonie. Hossen's concert activities have taken him to the USA (Carnegie Hall), Austria (Vienna Konzerthaus, Brucknerhaus Linz), Switzerland (Victoria Hall Geneva, Tonhalle Zürich), Spain (Auditorio Nacional Madrid, Palau de la Música Barcelona, Festival International de Santander), Canada, Mexico, China, Russia (Tchaikovsky Hall Moscow) and Japan.
He has performed together with outstanding musicians like Vladimir Fedoseyev, Bruno Canino, Philippe Bernold, Leslie Howard, Guenter Pichler, Adrian Oetiker, Gérard Causse, Vladimir Mendelssohn, Boris Mersson, Leon Bosch, Dominique de Williencourt, Georges Pludermacher and Jean-Bernard Pommier, to mention just a few. Univ. Prof. Dr. Mario Hossen is artistic director of the Camerata Orphica and the International Music Academy Orpheus, Vienna. Mario Hossen is an artist allied with "Thomastik Infeld" of Vienna, and plays a violin by Giovanni Battista Guadagnini, Milan 1749, on loan from the Österreichische Nationalbank's collection. He holds the prestigious Bulgarian Awards for 2015 – Musician of the Year 2015 awarded by the Municipality of Sofia and FM Classic Radio.
Local partners
SiteGround is an international IT company, specialising in web hosting solutions for websites of all sizes. Founded in 2004 in Bulgaria, they have a rapidly growing customer base from all over the world. Today they offer local services in Spanish and Italian, and power over 1 000 000 domains in 5 data centres on 3 continents. Their team is constantly growing in numbers and locations, currently comprising of more than 500 people in 6 offices in Bulgaria and Spain or remotely in over 13 countries.
SiteGround's core philosophy is craftsmanship and building innovative, and creative solutions. By supporting CreativeMornings chapters in Spain, Italy and Bulgaria, they want to nurture and further contribute to the development of the creative community on a local level.
Location
Hosted at Sputnik
Yanko Sakazov blvd. 17
Sofia, Bulgaria 1527
When
–