Loke Hong Seng
– Hosted at Singapore Art Museum
part of a series on Reality
About the speaker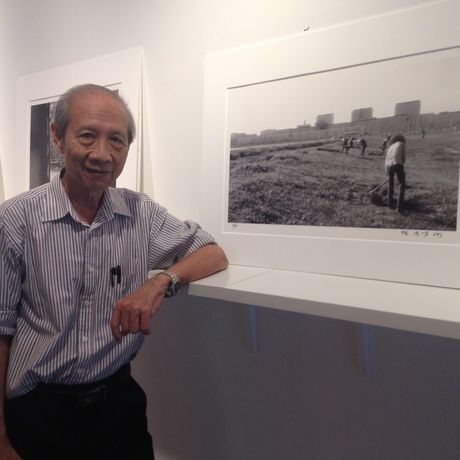 Loke Hong Seng (b.1943, Singapore) is a fine art photographer who specialised in shooting street portraits of Singapore during the period from 1963 to 1985.
A member of Singapore's pioneer generation, he graduated from Chung Cheng High School in 1960, and in 1965 joined the Singapore Broadcasting Corporation as an announcer where he produced numerous Radio Dramas in Mandarin and Cantonese. It was at about this time, that he began taking amateur photographs with his older brother's Topcon camera. Loke's passion for the craft grew steadily and soon he acquired and used several cameras including a Topcon, an Afga folded 6X9 and a Rolleicord 6X6.
In 1968 Loke joined the Photographic Society of Singapore (PSS) and exchanged ideas with talented photographers such as Quah Shang Wei, Doctor Wee, Yip Cheng Fen, Tan Lip Seng, Foo Tee Jun, David Tay, Goh Kim Hui, Benedict Toh, Royston, Henry Lee, Ho Kok Kin, and Francis Tan, amongst numerous others. Together with his friends, he upgraded his equipment and began shooting with a Leicaflex 35mm camera.
While taking pictorial salon photos, Loke made a conscious decision to fuse his salon style with realistic images of everyday life for a more distinctive presentation.
In 1973, Loke received the Golden Award from the 3rd Singapore Photo Art Photography Society. In 1974, he contributed a work that was selected at the Photokina Exhibition in Cologne, Germany, and received the One World for All UNESCO Award. He also exhibited at the UNESCO Headquarters in Paris in 1975 with a work entitled Human Settlement.
From 1982, Loke began to digitize and edit his collection of negatives, slides and photographs. It was during that time he developed an interest in video as a medium and became a professional videographer.
Local partners
Savvy is a privately owned, boutique recruitment consultancy specialising in identifying high-calibre creative talent & introducing them to reputable businesses across the Globe for Permanent, Contract and Freelance placements. Our clients, both agency and client side, range from start-ups to world-renowned organisations.
Areas of Expertise: Digital Design, Graphic Design, Interior Design, Architecture, Fashion Design, Broadcasting, Client-services, Project Management, Production, Development and more.
The Singapore Art Museum advocates and presents contemporary art practices of Singapore and the Southeast Asian region. Housed in a restored 19th Century mission school, SAM has amassed one of the world's largest public collections of modern and contemporary Southeast Asian artworks.
CreativeMornings / Singapore is lucky to have Fluttersound as our AV partner, they have been a firm supporter of the event and have recorded and edited most of our speaker videos since 2013.
Fluttersound is an audio & video production studio with a recording and post-production facility to meet the challenging demands of high-definition broadcast, television, social media and cinema.
Through making of music, videos, films and digital media, we allow businesses, marketers, advertisers and individuals to explore fresh, engaging ideas, and convey them creatively through sound and moving picture to reach customers.
Services Offered: Audio Production, Video Production & Post-production
Additional details
This month we are at our usual spot at the Singapore Art Museum.
CreativeMornings/Singapore on 27th May (Friday), 8am Singapore Art Museum, Glass Hall. 71 Bras Basah Rd, Singapore 189555
GETTING THERE
By MRT: Bras Basah MRT Station
Traffic is unpredictable in the area during mornings, so do try and take public transport if possible.
Need help getting from your house to the location? Try GoThere.sg to the Singapore Art Museum (SAM)
Location