Land, Air & Sea
May 22, 8:30am - 10:00am EDT. Hosted at Zoom | St. Pete | Nature
part of a series on Nature
About the speaker
• THIS MONTH • We're featuring ambassadors and advocates for the land, air & sea as we celebrate nature, consider our human impact, and hear how we can leverage existing systems to do better by our wilderness.
St. Pete native Neill Holland is an international development professional with more than eleven years of USG/UN programming experience in Pakistan, Turkey, Lebanon, Egypt, East Timor, Swaziland, Guinea-Bissau and more. He is currently on staff at the UN World Food Programme. In 2017, Neill and his partner, Danielle Dawley, founded Ocean Aid 360—a St. Pete-based marine conservation and habitat restoration nonprofit—and had their first federal proposal awarded by NOAA, to launch the Ghost Trap Rodeo, which mobilizes volunteers in search of derelict crab trapping gear and other forms of man-made marine debris with $25,000 in industry-donated fishing prizes to collectors. Last year the Ghost Trap Rodeo weighed in 26,391 pounds of marine debris, collected by volunteers, from our Bay—Florida's largest estuary.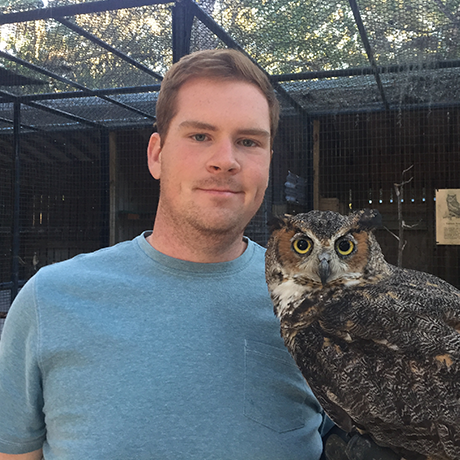 Jason Cowen is a St. Pete native with a passion for wildlife and conservation. He has volunteered with the Boyd Hill Nature Preserve since 2011, joined the Friends of Boyd Hill board in 2014, and is the current board president. Friends of Boyd Hill protects, supports and promotes the Preserve and its programs through volunteer service, financial support, and environmental education/advocacy. Though he is an advocate for all local wildlife, Jason specializes in birds of prey and assists in running the Bird of Prey Program at the Preserve.
Local partners
Roundhouse is a creative production studio rooted in video, motion graphics, and powerful storytelling. Based in sunny St. Pete, they provide clients from coast to coast with stories that evoke emotion and inspire action. As the CreativeMornings/SP headquarters and official production partner, Roundhouse provides monthly support to the chapter's ongoing operation.
Additional details
Join us for another DIGITAL EVENT as we explore the theme NATURE with Capt. Neill Holland, Jason Cowen, and some very special guests, including musical guest Napoleon the Wilderness! Meet us online around 8:30am on 5/22
STREAM THE EVENT HERE:
https://us02web.zoom.us/j/85991026051?pwd=ZUtBUXpvK29jSDBPOFZxMkcxWjUxQT09
Never used Zoom before? No worries, we're all getting used to it. Here's some help.
Digital doors open at 8:15am, programming starts around 8:30, and we should be done around 10ish. Pre-registration is required (but free!).
Tell your friend! Invite your friends and family! Bring your human or fur baby! Tune in near nature if you can! But really just show up however you like and let's hang.
We encourage you to safely support local businesses this morning and share your breakfast and beverage choices with us on screen. Many of our local faves are offering distanced pick up or home delivery options, including our 2020 partners: You can order items for pick up or delivery from MADE Coffee, TeBella Tea, Pete's, Mana, and Curious Cat.
We compost with Suncoast Compost and you probably should too.
Location
Hosted at Zoom | St. Pete | Nature
https://us02web.zoom.us/j/85991026051?pwd=ZUtBUXpvK29jSDBPOFZxMkcxWjUxQT09
St. Pete, Florida United States 33701
When May 22, 2020
8:30am - 10:00am