Ksenia Astakhova
– Hosted at ImpactHub Lausanne
part of a series on Commitment
About the speaker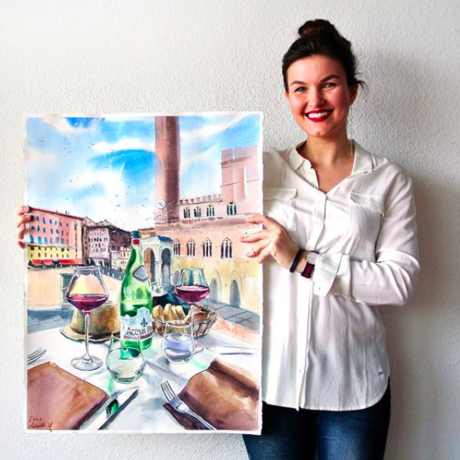 Ksenia is a Russian watercolour artist living in Switzerland. She gets inspired by exploring new places, and makes a new series of paintings each time she travels. Her main subjects are water, boats, and nature. Most of the time she paints "en plein air", of real things she sees with her own eyes.
Ksenia has a Master's degree in industrial design and has made a long way becoming an artist. She has worked as an interior designer, decorator, muralist and 3D-modeler in the past. Now, she concentrates on painting and working as an art teacher at school on permanent basis. During her free time she gives art workshops for children and adults.
In November 2015, Ksenia participated at the "UniCréa" exhibition in La Sarraz, Switzerland with her watercolor series "Lac Léman en aquarelle" and "Villes et Fleurs". During December 2017 she sold her artworks at the fundraising event to support children's hospice "Dom s Mayakom" in Russia.
In May 2018, Ksenia represented Switzerland at the biggest international watercolor exhibition "Fabriano in Acquarello" in Italy. Her paintings are located in private collections in the USA, Canada, Great Britain, Australia, Russia, Turkey, Indonesia, Germany, France, Italy and Switzerland.
Additional details
Ksenia will share her story on committing to her career path as independent artist & give some tips on transforming your hobby into a full-time job.
Location