Kevin Gillespie
October 27, 8:30am - 10:00am EDT. Hosted at The Fox Theatre
part of a series on Pioneer
About the speaker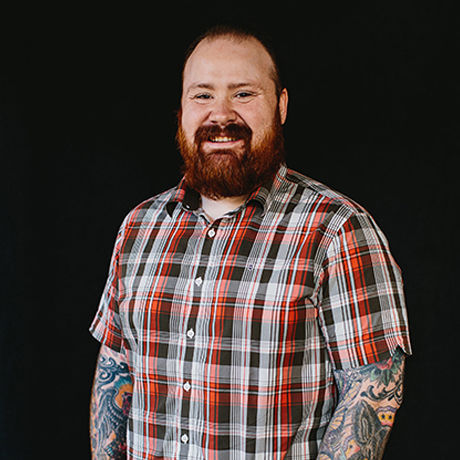 When Kevin Gillespie hesitantly signed up to compete on the sixth season of Bravo's "Top Chef" in 2009, he did it to save Woodfire Grill, his critically acclaimed but financially struggling Atlanta restaurant. Initially, he felt lost in the TV kitchen without his restaurant recipes and his ingredient-splotched cookbooks. He had to rely on his training, intuition and the simple recipes he learned as a kid growing up on Sunshine Circle in Locust Grove, Georgia, where he watched his granny, Geneva Gillespie, cook each day.
Gillespie's honest, genuine cooking resonated with viewers across the country. Suddenly, the modest, tattooed Georgia native was a household name. Fans were flocking to Woodfire Grill to see him and sample his rustic yet modern takes on American food with a Southern accent. Even his trademark crimson beard inspired its own Facebook fan page.
Six years later, as Gillespie's national brand continues to grow, he considers those hard-working people with every restaurant deal he green lights, every product he puts his name on and each cookbook he authors. His 2013 James Beard finalist cookbook debut, "Fire In My Belly," combined favorite dishes from his Woodfire Grill menu with his own artful interpretations of everyday favorites. His 2015 follow-up, "Pure Pork Awesomeness," was devoted to Gillespie's preferred protein.
Later in 2013, Gillespie debuted Gunshow in Atlanta's Glenwood Park neighborhood. It's perhaps the only restaurant in the city where the dim sum-style menu changes nightly and diners get to interact directly with the chefs creating their dishes, all set to a heavy metal soundtrack.
By 2014, Gunshow had landed on Esquire magazine's "Best New Restaurants" list, GQ's "12 Most Outstanding Restaurants" and was lauded in the pages of Bon Appetit. Gillespie was named a semifinalist for the James Beard Award Best Chef: Southeast in 2015, finalist in 2016 and a semifinalist in 2017.
For Gillespie, his culinary journey came full circle in January 2016, when he and his staff celebrated his granny Geneva Gillespie's 90th birthday at Revival where photos of the family matriarch hang on the wall. As family-style platters of fried chicken, meatloaf, macaroni and cheese and his grandmother's favorite pole beans were passed, along with a cast iron skillet of Geneva's mother's cornbread, Gillespie took a minute to reflect. "Having an opportunity to finally be the one cooking for her meant everything to me," he says. "She's still the best cook I've ever known in my life."
Even with all the national magazine praise and James Beard Foundation accolades, Gillespie is fiercely protective of one recipe in his repertoire. In a 2015 episode of CNN's "Culinary Journeys," Gillespie conceded if a restaurant critic ever goes after his great-grandmother's sacred cornbread recipe, "I might either cry myself to sleep or punch you in the face."
"I still feel the same way!" Gillespie says laughing. "In this line of work, you can't ever be boastful. I'm always up for feedback on dishes. You always need to be striving to get better. But, I get very defensive about our cornbread. It's the best you will ever have. The way I see it, if you're the type of person who won't protect the integrity of your granny's homemade cornbread, you don't belong in a kitchen!"
Local partners
Location
Hosted at The Fox Theatre
660 Peachtree St NE
Atlanta, Georgia 30308
When October 27, 2017
8:30am - 10:00am