Justin Ryan, PhD
September 30, 8:30am - 10:00am MST. Hosted at Phoenix Children's Hospital Cardiac 3D Print Lab
part of a series on Magic
About the speaker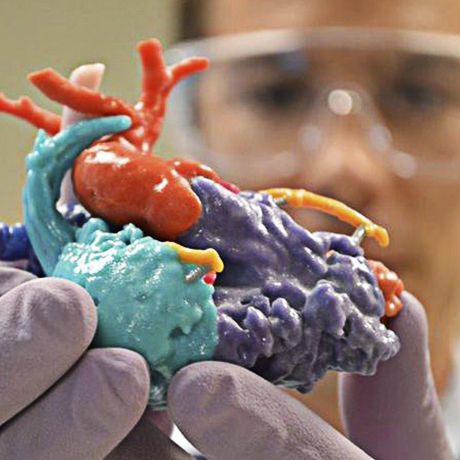 Artist turned Biomedical Engineer who embraces the MAGIC of life, 3D printing, and a plethora of hearts. Justin Ryan, PhD is a Science Foundation Arizona fellow and a research scientist at Phoenix Children's Hospital. Justin earned his BA in Digital Art in 2010 at ASU, an MS and PhD in Biomedical Engineering (ASU) in 2016. Justin's background in 3D computer imaging and animation has informed his current research initiatives in the physical and virtual modeling of biological systems. He currently runs the operations of the Cardiac 3D Print Lab at Phoenix Children's Hospital, where he produces 3D printed models for surgical planning and medical education. In the last four years, he has printed over three hundred hearts and has expanded the lab while utilizing three 3D printers.
web : Cardiac3DPrintLab.com instagram : @cardiac3dprintlab
Local partners
@cardiac3dprintlab :: Phoenix Children's Hospital, in collaboration with the Image Processing Applications Laboratory at Arizona State University, offers the latest in 3D printing for the purposes of surgical planning and family consultation. The lab was one of the first of its kind to bring this type of technology to patient care. Phoenix Children's Heart Center is the premier regional referral center in the Southwest and is the fifth largest program of its kind in the U.S. It offers the most comprehensive inpatient and outpatient pediatric cardiac care services to infants, children and teens with congenital heart defects, rhythm disturbances, heart failure and other cardiac-related problems.
AIGA advances design as a professional craft, strategic advantage and vital cultural force. As the largest community of design advocates, we bring together practitioners, enthusiasts, and patrons to amplify the voice of design and create the vision for a collective future. We define global standards and ethical practices, guide design education, enhance professional development, and make powerful tools and resources accessible to all. Formed in 1989, the Arizona chapter serves the graphic design community and those in related fields within the state of Arizona, and augments the activities of the national AIGA. The Arizona chapter presents several popular and well-attended industry events, including Say Anything, web 101 and the FilmBar film series. Our chapter has increased its demographic reach in recent years, with especially strong representation in Tucson and southern Arizona. Our student membership, the lifeblood of our organization, is growing and highly engaged, providing a continuum of representation from designers just starting out through the most seasoned professionals. The mission of AIGA Arizona is to bring programming to the design community which helps to improve design ability, connect complementary disciplines, encourage social impact and promote community excellence.
Additional details
Follow our Instagram, Facebook + Twitter accounts for updates about parking, breakfast + images of #cmMagic … see you soon #cmfamily : we #heart you!!!
The best #parking space is THOMAS GARAGE WEST.
CMPHX will be in the MAIN BUILDING.
Please enter through the LOBBY for CHECK-IN. Volunteers will direct you to the SECOND FLOOR, Heart Center Lobby. * Please check out our social feeds / Facebook event for the #map
Facebook : facebook.com/CreativeMorningsPHX Instagram / Twitter : @phoenix_cm
#cmMagic // #cmphx // #creativemornings
Location