Jen Urso
April 25, 7:30am - 9:00am MST. Hosted at Phoenix Art Museum
part of a series on Sex
About the speaker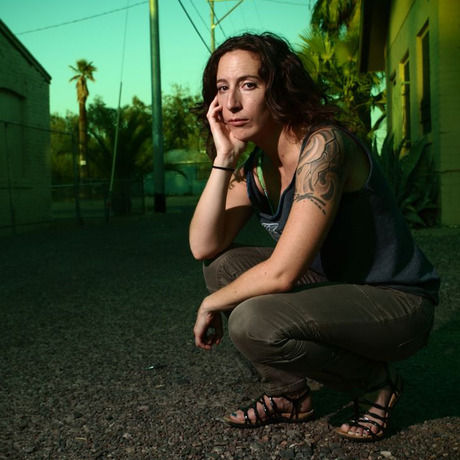 Jen Urso has been an artist and graphic designer for over 15 years. After gigs creating graphics for screen printing, the local arts community, and sci fi, fantasy and horror novels, she now spends her work days creating graphics and processing products as the web coordinator for a large local adult products wholesaler. On any given day, you might find a vibrator, lube, butt plug, measuring tape, and Milky Way bar on her desk.
In 2013, Jen worked as the Senior Graphic Designer for the 2014 Entrenue Catalog, creating illustrations and designing over 300 pages of products showcasing the best in the Adult industry. After working for almost two years at Entrenue, she has found that bringing conceptual, thoughtful and elegant design, with a respectful mind to its diverse clients, continues to raise the bar within the industry, allowing it to be unintimidating, fun and without judgment.
Local partners
AIGA advances design as a professional craft, strategic advantage and vital cultural force. As the largest community of design advocates, we bring together practitioners, enthusiasts, and patrons to amplify the voice of design and create the vision for a collective future. We define global standards and ethical practices, guide design education, enhance professional development, and make powerful tools and resources accessible to all. Formed in 1989, the Arizona chapter serves the graphic design community and those in related fields within the state of Arizona, and augments the activities of the national AIGA. The Arizona chapter presents several popular and well-attended industry events, including Say Anything, web 101 and the FilmBar film series. Our chapter has increased its demographic reach in recent years, with especially strong representation in Tucson and southern Arizona. Our student membership, the lifeblood of our organization, is growing and highly engaged, providing a continuum of representation from designers just starting out through the most seasoned professionals. The mission of AIGA Arizona is to bring programming to the design community which helps to improve design ability, connect complementary disciplines, encourage social impact and promote community excellence.
A vibrant destination for more than 50 years, Phoenix Art Museum presents festivals, live performances, independent art films and educational programs that enlighten, entertain and stimulate. Its unique setting is a wonderful choice to host an event such as a holiday party, business luncheon or a very special ceremony.
Visitors also enjoy the interactive PhxArtKids gallery, vibrant photography exhibitions through the Museum's landmark partnership with the Center for Creative Photography, the lushly landscaped Dorrance Sculpture Garden, dining at the Museum's restaurant Palette, and shopping at The Museum Store.
Additional details
Let's talk about sex PHX!
Keeping an open mind about your subject matter. The adult product industry is just as professional (if not more so) than any other. Especially when it comes to design and marketing.
Jen Urso will talk about her challenges and achievements on an Adult Industry catalog.
Location
Hosted at Phoenix Art Museum
1625 N. Central Avenue
Phoenix, Arizona United States 85004-1685
When April 25, 2014
7:30am - 9:00am