Jason Anthony
– Hosted at Fortoul Studios
part of a series on Ink
About the speaker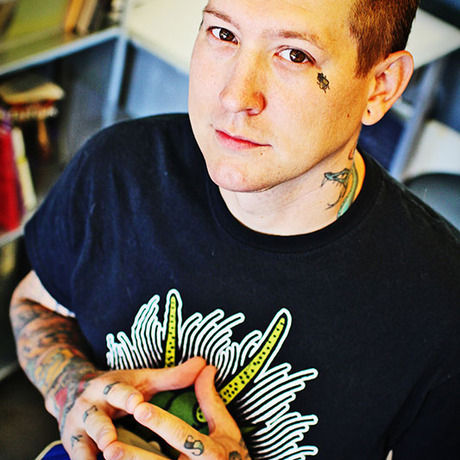 Jason Anthony has been tattooing in the Phoenix area for over a decade. His easygoing nature, diverse skill set, and stunning good looks make him a treat to work with and to be around. When he isn't busy making the Valley, nay, the entire state of Arizona a better looking place, you can find him avoiding responsibility and probably scheming ways to make Phoenix more like the Pre-Roman invasion of the British Isles. Until time folds on itself you can find him tattooing at his shop, Golden Rule Tattoo that he runs with his partners in business John O'Hagan and David Maxwell. Jason has managed to fumble onto a few awards, trophies, and plaques during his still burgeoning career and hopes that more people will think he's better than he really is.
Local partners
AIGA advances design as a professional craft, strategic advantage and vital cultural force. As the largest community of design advocates, we bring together practitioners, enthusiasts, and patrons to amplify the voice of design and create the vision for a collective future. We define global standards and ethical practices, guide design education, enhance professional development, and make powerful tools and resources accessible to all. Formed in 1989, the Arizona chapter serves the graphic design community and those in related fields within the state of Arizona, and augments the activities of the national AIGA. The Arizona chapter presents several popular and well-attended industry events, including Say Anything, web 101 and the FilmBar film series. Our chapter has increased its demographic reach in recent years, with especially strong representation in Tucson and southern Arizona. Our student membership, the lifeblood of our organization, is growing and highly engaged, providing a continuum of representation from designers just starting out through the most seasoned professionals. The mission of AIGA Arizona is to bring programming to the design community which helps to improve design ability, connect complementary disciplines, encourage social impact and promote community excellence.
FORTOUL is the vision of two Colombian brothers born and raised in the outskirts of New York City. Inspired by the vibrant diverse communities and raw energy of the city, they set forth to create a cultural entity encompassing art, music, fashion, film & design. 40owls, an independent nomadic gallery was created as an outlet to express these art forms. Through these exhibitions they hope to remind us all of the magic around us everyday.
info@40Owls.com
Golden Rule Tattoo was born out of a simple idea. Create a tattoo shop that is clean, friendly and professional. To make this simple idea grow into a great tattoo shop we decided that the thriving art community in the heart of downtown Phoenix, on Roosevelt Row was the perfect location. We then went about recruiting the best, friendliest and most professional artists. We are proud to say that the reaction from the community has been amazing. Every tattoo has a story, let's create yours together.
Location
Hosted at Fortoul Studios
815 N Central Ave.
Phoenix, Arizona United States 85004
When
–