Jakob Ulrik Ahlers
August 28, 8:30am - 10:00am CEST. Hosted at Virtual - Zoom
part of a series on Stress
About the speaker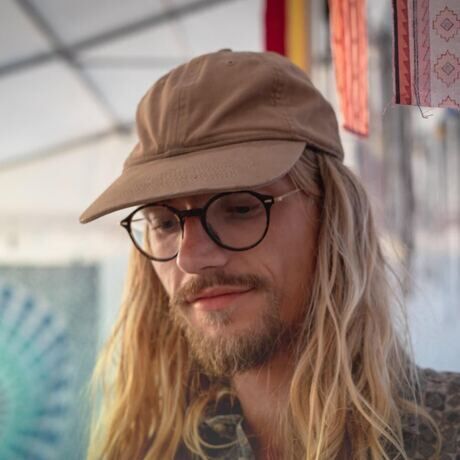 Ishtadi (Jakob) is a highly experienced yoga, meditation, breathing and relaxation teacher as well as a sound therapist and a stress coach. He had lived in India and studied with monks, nuns, siddhas, yogis, musicians and a variety of therapists and healers.
At the age of 18, Ishtadi became a founder, organizer and DJ for the artist collective "Lydkammerat," organizing pop-up events, concerts, parties, and the festivals Flerdagsdrøm 2015/2017. In the last few years, Ishtadi has been on Indian National TV, co-played the Wake Stage at Distortion before 20,000 people, and was featured on several festivals in Denmark, Germany and India.
Ishtadi is now the founder of Nature Tales, a Copenhagen-based studio, designed to use a vibroacoutstic floor and specially produced music to turn self-discovery into a playful journey towards wellness. His current work is directed towards bridging music and movement cultures, and focusing on the aspect of mindfulness and immersion into the now. He facilitates and produces music for ceremonies, parties, concerts, wellness, dance and relaxation experiences.
Impressively, Ishtadi is also music manager at Move Copenhagen, a European ambassador at Arunachala Sound Temple, a producer, DJ, world musician, sound therapist, stress coach, yoga teacher, and children's yoga teacher. He goes by the sanskrit name Ishtadi, meaning the Purification of Senses.
Additional details
"In the space between the stimulus and response, take some of the spotlight away from stress."
August's theme is Stress. Our Warsaw chapter chose this month's exploration of Stress, and Shanee Benjamin illustrated the theme.
Feeling stressed or overwhelmed, or just really in need of a break? You won't want to miss this event! Find a comfy chair, pop in your headphones, and sit back to enjoy a stress-free event full of music and meditation.
Location
Hosted at Virtual - Zoom
-
Copenhagen, Denmark
When August 28, 2020
8:30am - 10:00am