Francesco Nori
– Hosted at Frog Milan
part of a series on Robot
About the speaker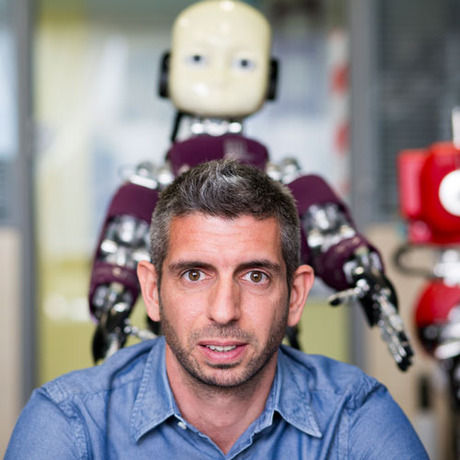 Francesco Nori is a researcher at the Istituto Italiano di Tecnologia. He has been one of the main developers of the iCub robot with specific focus on humanoid motion control. Throughout the last years he has been working on research topics related to motion planning, torque control, (active and passive) compliant actuation, whole-body motion control and interaction control. Part of his research activities have been dedicated to human motion analysis, trying to find common principles in human and humanoid motion control leveraging on tools such as stochastic calculus, optimal control and dynamic models of articulated structures.
Local partners
frog is a global design and strategy firm. We transform businesses at scale by creating systems of brand, product and service that deliver a distinctly better experience. We strive to touch hearts and move markets. We partner with clients to anticipate the future, evolve organizations and advance the human experience.
With more than 100 million photos, vectors, illustrations, videos and music clips—and thousands more added daily, Shutterstock provides the building blocks for great creative work. Together with CreativeMornings, Shutterstock supports conversation, community, and professional development for creative people worldwide. Shutterstock also offers 20% off standard accounts to the entire CreativeMornings community.
Additional details
Interacting with Humans with iCub-humanoid
The next step of the digital era foresees a widespread use of robots, i.e. artificial machines capable of interacting with the environment and with humans. This talk will give fundamental, historical and philosophical motivations that guided recent research activities towards the problem of studying how humans interact with the environment and among themselves. The talk will conclude with the presentation of the iCub humanoid, an open-source robot designed to advance the current state-of-the-art in the following directions: decisional autonomy, dependability/adaptability, perception and, in a single all-embracing word, cognitive abilities.
Location
Hosted at Frog Milan
Via Ugo Bassi, 21
Milan, Lombardy Italy 20159
When
–