Houston White
July 19, 8:30am - 10:00am CDT. Hosted at Minneapolis College of Art and Design
part of a series on End
About the speaker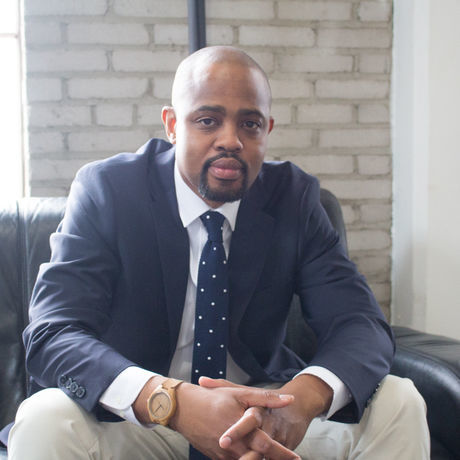 Houston White Jr. is the owner of H. White Men's Room in North Minneapolis, and the creator of the Black Excellence Movement and the HWMR lifestyle brand.
Houston's entrepreneurial career started at the age of 12 when he received his first pair of clippers. He attended Moler Barber College and has been a professional barber for over 20 years. After completing barber school, Houston began his career at the Chisler barbershop and was one of the co-founders of the MassAppeal Barbershop. Always the innovator, in 2004, Houston laid the foundation for the successful "H. White Custom Homes", remodeling over 25 homes and building 20 new homes in Minnesota.
In 2008, Houston opened H. White Men's Room and created his own line of HWMR grooming products that are paraben free and made with all-natural essential oils. The product line has been expanded to include the HWMR lifestyle brand, whose mantra is Excellence, more specifically, Black Excellence.
With mass media shedding a negative light on black men, Houston felt compelled to show a true representation of black men in our community. From there, the Black Excellence movement was born. The idea is to spark a renaissance uniting the artist and the entrepreneurs and take control of the economics, politics, and the media within our own community.
Houston White has expanded his title into social entrepreneurship and is using the platform of Black Excellence to engage the community. He mentors young men giving them an up close look at the day-to-day interactions amongst gentlemen and the behind the scenes grind that goes into running a business. Houston also sits on the board of The Harvest Initiative, which is a group of black businessmen working to bring about educational choice for children and economic development. Houston is a board member of The Webber Camden Neighborhood Organization (WCNO). WCNO advocate for residents on crime and safety, sponsor fun events during the year and provide senior and home loan programs through Neighborhood Revitalization Program (NRP) funding.
Houston's model for success is "Dream, plan, execute."
Local partners
Additional details
What is the event like? CreativeMornings is about community and inspiration. Come for both! Check-in will begin at 8:30am and we'll have coffee and breakfast ready for you. Coffee time is great for meeting the other CreativeMornings attendees. The talk will start at 9 followed by Q&A. We like giving high-fives.
This Month's Theme: End This month's theme is End, chosen by CreativeMornings/Rio de Janeiro and illustrated by Isadora Zeferino.
Parking? Those with cars are typically able to find free, unrestricted parking on the streets surrounding MCAD's campus. The college also has a parking lot located at the intersection of 26th Street East and Second Avenue South where you can park for $0.25/hour.
Questions? Please let us know if you have other questions about the event: minneapolis [at] creativemornings.com
Location