Hamid Jabbar
– Hosted at CO+HOOTS
part of a series on Sound
About the speaker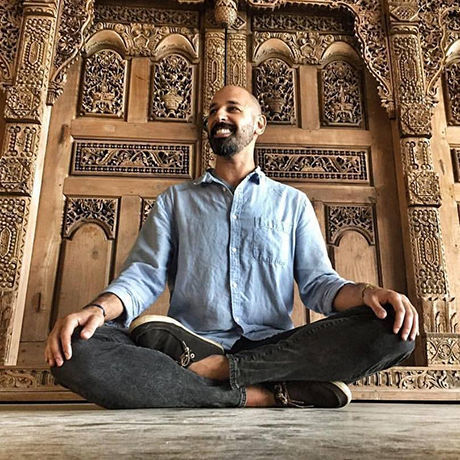 #cmSOUND :: join your #cmfamiliy with Hamid Jabbar ( @hamid.jabbar ) at Co+Hoots ( @cohootsphx ) on Friday, December 09. Hamid will be sharing the vibrations of a gong + crystal bowls as we meditate + allow the beautiful melodies to fill our creative brains. These vibrations contain layers of meaning : a range of questions, intentions + purposes. The absence of sound contains curiosities, + often peace. Hamid has studied these various degrees of sound + is excited to share the knowledge as to how they can help you excel as a creative + compassionate person, to yourself + others … just in time for the holidays! * Thank you to AIGA AZ ( @aigaarizona ) for breakfast + coffee! * #cmphx #hearts YOU!!!
Local partners
CO+HOOTS is the only shared central Phoenix office location that promotes collaboration and provides a professional, inspirational and self-sustaining space to grow and nurture entrepreneurialism. Creatives, entrepreneurs and small business of all areas flock here to become a part of central Phoenix's growing vibrancy. As a community of local-minded and business-focused people, we are able to collaborate on projects, share resources and generate more success to support our livelihoods. CO+HOOTS is designed to help your business thrive.
AIGA advances design as a professional craft, strategic advantage and vital cultural force. As the largest community of design advocates, we bring together practitioners, enthusiasts, and patrons to amplify the voice of design and create the vision for a collective future. We define global standards and ethical practices, guide design education, enhance professional development, and make powerful tools and resources accessible to all. Formed in 1989, the Arizona chapter serves the graphic design community and those in related fields within the state of Arizona, and augments the activities of the national AIGA. The Arizona chapter presents several popular and well-attended industry events, including Say Anything, web 101 and the FilmBar film series. Our chapter has increased its demographic reach in recent years, with especially strong representation in Tucson and southern Arizona. Our student membership, the lifeblood of our organization, is growing and highly engaged, providing a continuum of representation from designers just starting out through the most seasoned professionals. The mission of AIGA Arizona is to bring programming to the design community which helps to improve design ability, connect complementary disciplines, encourage social impact and promote community excellence.
Additional details
The theme was chosen by our Dublin chapter, presented globally by WIX + illustrated by Deryy Dillion. * #savethedate #aigaaz #localaz #azmakers #phoenixdesigners #phxdc #phxdw #phoenix #coffee #breakfast #keepgoing #nevergiveup #dreambig #riseup #meditate #OMlove #soundhealing #soundbath #urbanwellness #spiritualgangster #dowhatyoulove #lovewhatyoudo
Location
Hosted at CO+HOOTS
221 East Indianola Avenue
Phoenix, Arizona United States 85012
When
–