Elizabeth Rees
– Hosted at Third Branch Creative Studio
part of a series on Craft
About the speaker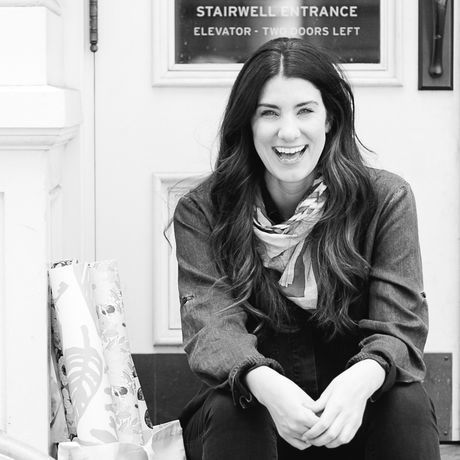 Elizabeth Rees is the founder of Chasing Paper, a stylish, removable wallpaper company. As third generation in her family's printing company, she grew up learning the ins and outs of ink, paper and patterns. With the belief that printing is not only a family tradition, but also a craft, Elizabeth carved out her own path in paper by developing a line of innovative, design-conscious removable wallpaper.
Elizabeth cultivated her entrepreneurial spirit over the past ten years of work, study and travel. Moving several times during this period also created an excitement to decorate and make each new space she lived in her own. After countless conversations with serial-movers, stylish mamas, renters who feel like anything but, DIYers and, of course, commitment-phobes, the idea for Chasing Paper began to take form and Elizabeth formally launched the company in March 2013.
With the philosophy that design is for everyone, Chasing Paper offers customers an affordable, fun way to transform spaces of all sizes. Wallpaper is an extraordinary way to transform an environment, and removable wallpaper removes that fear of commitment many people have. Available in a wide variety of colors and patterns, Chasing Paper's easy "peel-and-stick" application makes it the perfect solution for any interior project. Manufactured in the United States (Milwaukee, WI), Chasing Paper is printed on a high-quality removable fabric, backed with a low tack adhesive and sold in panels measuring 2 feet by 4 feet. The brand also offers wall stickers and growth charts for a youthful, fun décor for your wall.
In late 2017, the brand launched a collection of thoughtfully curated and affordable oversized grand format prints called Print Shop. Partnering with a select group of artists, such as Elizabeth Olwen and Emma Darvick among others, Chasing Paper created a cool and effortless collection of prints that will feel perfectly at home in any space you choose. From a dose of inspiration above your desk to a greeting at your entryway, these prints will inspire the everyday emotions – from calm to joy – and style of your life.
Today, Chasing Paper has collaborated with numerous designers, artists and brands, including ban.do, Pottery Barn, West Elm, Betsey Johnson, Lisa Congdon, Molly Hatch, Rebecca Atwood, Soludos, Ashley Goldberg, Nickelodeon and many more.
Elizabeth holds a Bachelor of Arts degree in Journalism from Indiana University and a Master of Arts from the American University of Paris. Prior to launching Chasing Paper, Elizabeth worked at the National Geographic Society. The company is based in Milwaukee, Wisconsin where Elizabeth resides with her husband.
Local partners
Third Branch Creative Studio is a creative studio and collaborative event space space founded by Chasing Paper to shoot beautiful content, create community and share stories. The space is available for photoshoots, workshops, speaking engagements, and retail pop-ups and is located in Walker's Point.
MKE Production Rental provides powerful audio-visual tools to empower creative professionals throughout Milwaukee and Southeast Wisconsin — from cameras to projectors, sound equipment and lighting gear. MKE Production Rental believes creativity is what moves cities forward.
Location