David Pierre-Louis
November 9, 8:30am - 10:00am PST. Hosted at MoPOP (formerly EMP)
part of a series on Restart
About the speaker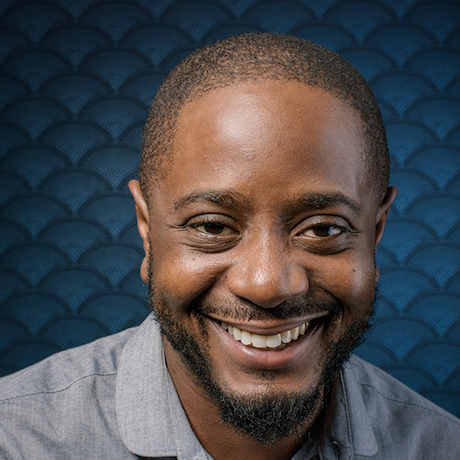 David Pierre-­Louis is a community organizer that is focusing his leadership skills on social and economic development in Haiti. His dynamic leadership style is demonstrated through his mobilization of community action and advocacy for social change in Port-au-Prince.
He is the founder of Kay Tita, a community-driven organization that cultivates strategic partnerships and empowers a growing entrepreneurial ecosystem in Port-au-Prince.
David is building a six-story sustainable community resource center that focuses on creating a collaborative, reliable and globally connected space for young leaders in Port-au-Prince to build out their impact-inspired visions.
Throughout his career, David has developed his social enterprises with the mission of investing in the Haitian community by igniting young entrepreneurial talent and celebrating the country's natural resources and culture. He is the Operational Director of Haiti Coffee Co, which sources its coffee directly from the farmers in Northern Haiti. David believes the future of Haiti depends on strengthening the country's current supply chain, through education, training and paying above industry average wages to the farmers.
He is the Founder of Port-au-Prince Startup Week and also co-founded Impact Hub Port-au-Prince as a way to support the young entrepreneurs in Port-au-Prince in gaining access to a reliable workplace and a network to build out their impact focused initiatives. David is a Facebook Community Leadership Fellow, a program that bolsters David's work to promote early-stage entrepreneurship in Port-au-Prince.
Local partners
Edelman is a global communications marketing, creative and digital agency, but here in Seattle it's home to the fierce independent spirit that's 100-percent Pacific Northwest.
In a nutshell, Vitamin T provides carefully screened freelance designers, developers and copywriters on a freelance and Talent Bridge basis. Sometimes we also provide cookies and milk, just when you need them. (Milk not available in all states and provinces.)
The Museum of Pop Culture is a leading-edge nonprofit museum, dedicated to the ideas and risk-taking that fuel contemporary popular culture. With its roots in rock 'n' roll, MoPOP serves as a gateway museum, reaching multigenerational audiences through our collections, exhibitions, and educational programs, using interactive technologies to engage and empower our visitors.
Additional details
If you would like to request an ASL Interpreter, after reserving your ticket please contact seattle@creativemornings.com within seven days of the event
---
Join us for a fascinating talk by David Pierre-Louis and a live recording of the No Blueprint Podcast by Domonique Meeks.
About Domonique Meeks: Domonique is the host of the No Blueprint Podcast with assistance from his sidekick Yoshiko Ueda and visual producer Tey Thach. The podcast focuses on highlighting local entrepreneurs and artists. He is the co-owner alongside his fiancé Diana Trinh of Ambassador Stories, a small business focused on sharing stories through film and audio of marginalized communities specializing in entrepreneurship, education, and art. He holds a Masters of Science Information Management from the University of Washington. He is also the Program Director for Aki Kurose Middle School's Rising Leaders Inc program which focuses on providing professional mentors and building leadership skills for students. Much of Domonique work revolves around storytelling, education, digital access, and democratizing media. He aims to be a connector for the community, small businesses, and information resources.
About the No Blueprint Podcast: Global citizens rooted locally in their South Seattle neighborhood of Beacon Hill, host Domonique Meeks and sidekick Yoshiko Ueda, started No Blueprint in 2016 as a platform specifically for artists and entrepreneurs to share their stories, experiences, and insight. For two seasons, they've interviewed both experienced veterans and folks bubbling under the surface about the drive they had to develop in order to be their own boss.
Check it out at https://www.noblueprintpodcast.com
A Q&A with David Pierre-Loius
[CreativeMornings] How do you define creativity and apply it in your career?
[David Pierre-Louis] Creativity is what I tend to access to solve problems, It typically plays a very active role when I'm creating something from scratch, Especially when I'm not 100% sure what the end is truly going to look like but I have a slight idea in my mind what it could be. I don't really believe in the word can't or no, so usually Creativity replaces the impossible and makes everything possible in my eyes.
[CM] Where do you find your best creative inspiration?
[DPL] I'm inspired everyday. I'm very observant and therefore the things that i register eventually is used later through out my work and community. I believe that we should leverage each other, our environment as much as possible. Experience(s), whether mine or others helps fuel my creative ventures. The right question in any case will definitely help.
[CM] What's the one creative advice or tip you wish you'd known as a young person?
[DPL] Don't feel responsible for solving the problem on your own.
[CM] Who would you like to hear speak at CreativeMornings
[DPL] Jazz Brown or Derrick Standard
[CM] What keeps you awake at night
[DPL] Nothing! (Ha ha). When it's time to sleep I'm knocked out. I work pretty hard during the day so when I'm home, and it's that time. The ideas can wait.
However, What gets me up in the morning is the desire to create this resource center in Haiti that will support the advancement of a positive environment and will be the center of change in Haiti
[CM] What are you reading these days?
[DPL] Children of Blood and Bones
Location
Hosted at MoPOP (formerly EMP)
325 5th Avenue North
Seattle, Washington 98109
When November 9, 2018
8:30am - 10:00am