Charlie "Charbee" Koenen
May 25, 8:30am - 10:00am CDT. Hosted at Colectivo Coffee
part of a series on Commitment
About the speaker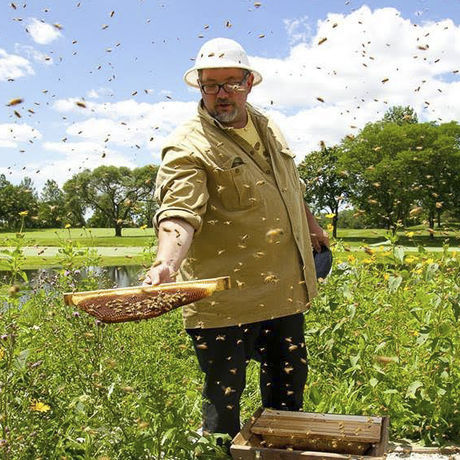 A Milwaukee-native, Charlie "Charbee" Koenen is a serial entrepreneur, consummate teacher, and the Executive Director of BeeVangelists, a non-profit organization bringing a bee-centric vision regarding the plight of bees and the need to restore thriving hive communities in urban environments and beyond. 
Upon receiving a BFA in Graphic Design and studying Industrial Design at UW-Milwaukee in 1984, he jumped on the Apple Macintosh computer and began teaching people to "Think Different" about computers and desktop desktop digital technology. After helping start up several digital art departments in print, textile and media companies, he founded Third Millennium Design, an Apple Smart Studio that provided IT, training, equipment support and creative services for ad agencies, design departments and large scale brands throughout the Midwest and employed as many as 25 artists, technicians, teachers and sales consultants. In 2004 he walked away from the digital world to teach people to "Think Different" about bees.


After six years of experimentation, Charlie turned conventional beekeeping on its side (literally) inventing the first Vented Top Bar Hive System, an alternative to the stacked box hive suited for urban beekeeping, and founded the company Beepods. Meanwhile bees started to make headlines by disappearing.



Since founding BeeVangelists in 2016, Charlie has served to educate the public about beekeeping and advocate for bees establishing Community Supported Pollinators (CSPs) programs and working with private, public, and private institutions to install and care for urban apiaries. Bringing communities together, these apiaries can now be found in school campuses, church rooftops, retirement homes, golf courses, ecology centers, and numerous backyards throughout the Milwaukee area.
Local partners
MKE Production Rental provides powerful audio-visual tools to empower creative professionals throughout Milwaukee and Southeast Wisconsin — from cameras to projectors, sound equipment and lighting gear. MKE Production Rental believes creativity is what moves cities forward.
Colectivo Coffee has been hand-roasting coffee in Milwaukee for more than 20 years. Since 1993, Colectivo have maintained their commitment to creating unique retail environments, providing strong community support, and minimizing their environmental footprint. Colectivo values creativity, innovation, and craftsmanship, and are proud to provide remarkable experiences through their people and with their products.
Location
Hosted at Colectivo Coffee
2211 N Prospect Ave
Milwaukee, WI 53202
When May 25, 2018
8:30am - 10:00am