Caroline Gamble on Stress
August 28, 8:30am - 9:30am +08. Hosted at the Hive Carpenter
part of a series on Stress
About the speaker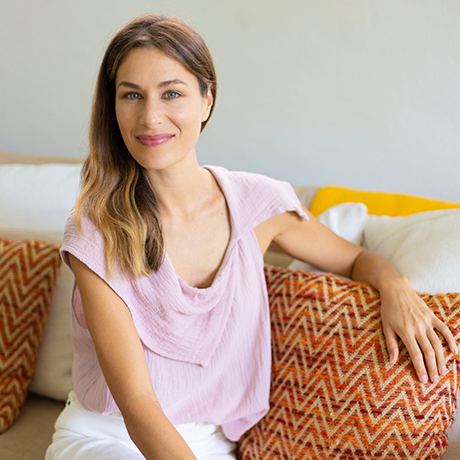 Founder of THE BREATH METHOD App for breath education and optimization.
Caroline started her career as an advertising exec in London. Like many before her, she worked too hard and burnt out. On a mission to nourish herself and those around her, she trained as an advanced yoga teacher and yoga therapist. She worked with yoga masters in Europe, the US and India, specialized in the deep multi-practice approach of Raja Yoga, trained in advanced yoga breathing and mind control techniques with Swamis in the Himalayas and gained over 1,000 hours of formal training. She has shared that knowledge in over ten years of teaching sell-out retreats, workshops and classes throughout Europe and Asia.
Having taught hundreds of people from diverse backgrounds and circumstances, drawing on the many practices she had mastered, Caroline saw time and time again that there was one tool more powerful, immediate and transformational than the rest - breathing. In just a few breaths people can change how they feel in mind and body, and by understanding key breathing techniques people have a direct way to manage their mood, emotions, and physiology, for the long term improvement.
So, Caroline has developed THE BREATH METHOD App to bring breathing techniques and education to a broader audience. The App offers guided practices to teach good breathing, breathing tools to shift mood, and specific techniques to sleep, destress, focus, energize or relax. Caroline supports easy accessibility with free content for all users and pro-bono advanced guidance to those in need.
"Improve your breathing, improve your life."
Local partners
The Hive is a network of coworking spaces across Asia and is home to many startups and growth-minded companies, making it a perfect spot for all entrepreneurs to develop their journey and share their stories. More than just coworking, we believe in being the catalyst for integrated business opportunities, partnerships and events through our vibrant community and spaces worldwide.
Additional details
CreativeMornings is back with a new theme this month, Stress. Join us on Zoom, link to follow!
OUR VENUE SPONSOR: The Hive Carpenter, Virtual Zoom Event hosted by The Hive
Location
Hosted at the Hive Carpenter
The Hive Carpenter Carpenter Haus, 36 Carpenter Street
Singapore, Singapore 059915
When August 28, 2020
8:30am - 9:30am