Camilla Watson
February 10, 8:30am - 10:00am WET. Hosted at Second Home Lisboa
part of a series on Moments
About the speaker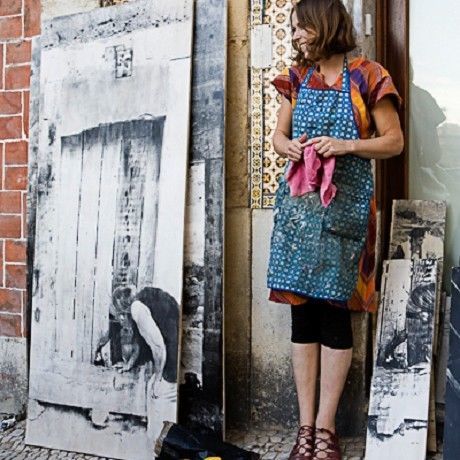 Camilla has worked as a photographer for 25 years. Among Lisbonners she is best known for her black&white photographic prints on the buildings in Alfama and Mouraria. However, it's just a fraction of what Camilla does.
"I started my path as a photographer in 1993 in London in the areas of theatre, social documentary and portraiture. Between 2000-2004 I moved to São Paulo to teach young people photography in the favelas for the ONG 'Meninos do Morumbi'. I passed through Lisbon for the first time in 2007 on my way for an assignment in São Tomé.
The city grabbed me immediately. Here I was amidst 7 hills, a magnificent river, the sea, a castle, alleys, tiny squares and extra-ordinary architecture. To top it all the magnificent light reflecting off the cities stone, and surrounding waters. I felt I had come home.
Lisbon is both mysterious and magical. The architecture and the light will always be here, however people come and go, and as a photographer it is the charismatic figures of the oldest neighbourhoods I love and I am drawn to. Their spirits are in the walls, alleys and cobbles of Alfama and Mouraria. They have characterized the oldest neighbourhoods of Lisbon and in turn the local history and daily life – past and present – have characterized them.
Since moving here I have focused on projects collaborating with communities and exhibiting in outdoor spaces which are linked to the people I am photographing. I am interested in people, communities and their history. How can we keep a communities history alive? How can we hold onto their memories in rapidly changing environments? I want to bring the past into the present in a way that is visual, creative and accessible to all; especially in historic neighbourhoods and in areas in a process of change.
My intention is also is to find the best materials to challenge the weather and the sun. To do this has meant learning to print onto different surfaces including wood, walls, mosaics and stone. Most recently this has been limestone. To print on these surfaces I work from my atelier/darkroom in Mouraria."
We invited Camilla to CreativeMornings to tell us more about her creative journey, and how she uses photography to bring communities together.
Local partners
Impossible is a global product design company. We are a group of people who have come together to help solve meaningful problems and guide global change.
A picturesque farm, an organic grocery store and restaurant located in Azueira, near Mafra. Quinta do Arneiro sells organic vegetables, fruit and other products and delivers them to your door in a weekly box. It also has a restaurant that works in the "farm to table" format.
Location
Hosted at Second Home Lisboa
Avenida 24 de Julho (1st floor of Mercado da Ribeira)
Lisbon, Portugal 1200-479
When February 10, 2017
8:30am - 10:00am