Broken by Dre Baldwin
– Hosted at Axis Space Coworking
part of a series on Broken
About the speaker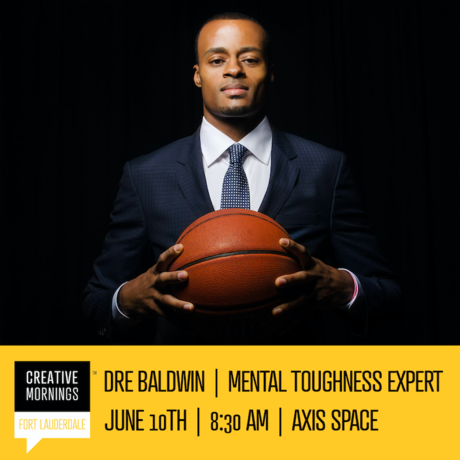 Dre Baldwin is an International Mental Toughness and Confidence expert, author, and consultant who played professional basketball for 9 years internationally. Dre started posting new content daily to his YouTube channel in 2009 – a discipline that continues to this day, publishing over 5,000 videos that have been viewed over 35 million times. Dre has given 3 TED Talks and published 7 books, including "The Mental Handbook". He has worked with Men2Boys mentoring group in Broward and serves as President of Toastmasters in Miami Beach.
In a field for which fewer than 1% ever make the pros, Dre faced several "it's over" moments from which he not only recovered, but found the keys to recovering from setbacks – which is what he now teaches to millions on several platforms and will bring to CMFTL on June 10!
Local partners
Creatives On Call is a boutique placement agency that specializes in recruiting professional creatives for permanent, temporary, and freelance positions in design, digital, advertising, marketing, and communications.
We know that the hiring process can be daunting, no matter which side you are on. We understand the challenges of the industry, because we are the industry. We know how involved the process is for creatives to market themselves, because we are creatives. And we recognize the time constraints and managerial pressures on our clients to find the right talent fast for positions, projects, and last-minute emergencies, because we are managers.
Location