Boaz Sides - UNTAY
June 20, 8:30am - 10:00am IDT. Hosted at Autodesk
part of a series on Wonder
About the speaker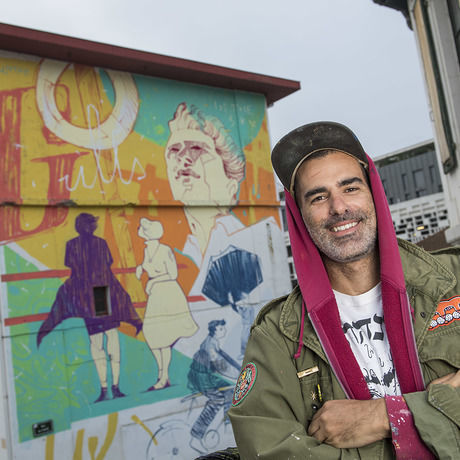 Meet visual artist Boaz Sides, aka UNTAY - a tattooer-muralist-illustrator based in Tel Aviv and active in Israel's alternative art scene.
"I work with many mediums, out of research and curiosity, inspired by music, street art and graffiti, contemporary illustration and design, the grunge scene, the natural environment I live in and by expressionist artists such as Egon Schiele and Gustav Klimt.
My works are like a colorful ongoing illustrated diary that developed with time and mainly deal with personal experiences that guide me as an artist.
The works are therefore variegated - some are autobiographical and others depict communal experiences. The majority of my works are figurative mixed with abstract and free lines, combination of classic drawings, illustrations and designs created on a variety of surfaces and mediums.
In 2014, I co-founded the "Prettimess Collective" with Ben and Alon (from Dasilva Boards co.) that gathers together a group of talented alternative and independent artists. So far we've produced and curated more than 20 exhibition and art events with more than 50 artists from Israel and abroad and thousands of visitors from all around the world.
Since 2010 I have exhibited my art, curated, produced and collaborated in dozens of art events and projects in Israel and around Europe."
Come here his story…
—
Find him: Instagram: @boaz_untay / Facebook: UNTAY / Website: www.untayart.com
Photo credit: Nika Kramer
Local partners
Additional details
Thursday April 11 Join us for an inspiring and fun morning with Boaz Sides aka UNTAY, on the theme of #CMWonder.
Tickets are FREE but space is limited so be sure to click 'register' above and grab your ticket. Great coffee by Nahat, pastries and mingling from 830am. Boaz's talk is in HEBREW and will start at 9am SHARP. And you're off to work by 10am.
New Location: Autodesk, 22 Rothschild Blvd Floor 16
Special thanks to the generous humans at Wix.com for making our events possible and to Autodesk for hosting us in your space this month!
Looking forward to seeing you there, Team CMTLV
PS "But I have work" is not a good enough excuse. Here's what to say to your boss.
PPS 830am?! #notamorningperson? Neither is half our team…and there's coffee ;)
Location
Hosted at Autodesk
Rothschild Blvd 22
Tel Aviv, Israel Israel
When June 20, 2019
8:30am - 10:00am