Belgian Renaissance
– Hosted at BeursCafé, at Beursschouwburg
part of a series on Work
About the speaker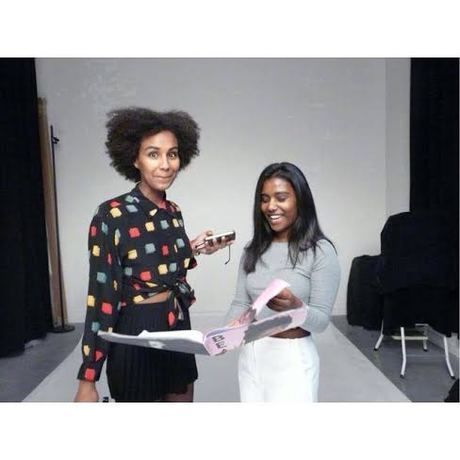 Melat Nigussie, Adinda Vanderzande and Mathieu Charles co-founded Belgian Renaissance in 2013, out of a need for more critical voices from African/Black communities who are still underrepresented in the Belgian media as well as intellectual, artistic and literary realms.
The collective lends its name from the Harlem Renaissance, a cultural and literary movement in the 1920's that aimed to dignify the position of African/Black-Americans in the United States. Inspired by this movement, Belgian Renaissance aims to creatively empower African Diaspora youth in Belgium through seminars and creative projects connected to the kaleidoscope that is the African Diaspora.
Adinda's contribution to Belgian Renaissance centers around the artistic exploration of African and Black identities through creative projects. She is currently co-producing a shortmovie with Pianofabriek about Afro-Belgian youth in Brussels, directed by Eloi Nsanzabandi.
Adinda is also studying Cultural Anthropology and Non-Western Sociology at the University of Amsterdam, with a focus on Africa and the Black Atlantic. Her Master research, in collaboration with Urban Woorden and the Flemish Literary Funds, focuses on linguistic practices and institutionalized racism in Flanders.
Within the collective, Melat focuses on the more academic and literary fields, as her passion for reading and writing adds to the critical exploration of these areas. She has written columns for Bleri Lleshi's blog, "Brieven uit Brussel", and for the newspaper Brussel Deze Week. In February she was featured in De Standaard's Hit & Run section.
Melat studies Dutch and English Literature at the Free University of Brussels, with an interest in decolonial literature studies.
At CreativeMornings Brussels, Adinda and Melat, on behalf of the Belgian Renaissance collective, will be sharing the many different facets of the work they do, why they have chosen to get involved in this project, and what they hope to achieve.
Local partners
Additional details
CreativeMornings is a breakfast lecture series for the creative community. Our free, monthly events feature a short talk, meaningful conversations, and… breakfast!
Location