Ann Van Hoey
June 17, 8:30am - 10:00am CEST. Hosted at Rooftop terrace, at Beursschouwburg
part of a series on Broken
About the speaker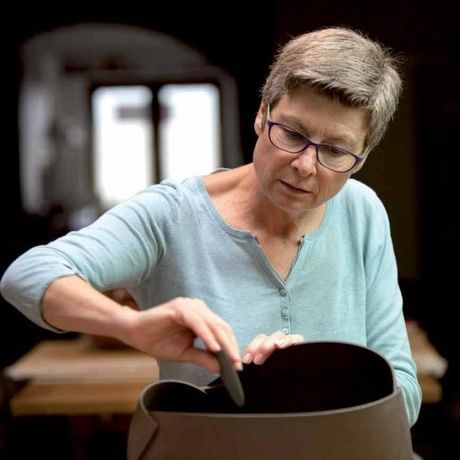 An internationally acclaimed ceramics artist, Ann was born in Mechelen, and graduated at the University of Antwerp, with a Master in Applied Economic Sciences in 1979.
Ceramics had been her hobby for a very long time, which she then decided to turn into a profession. She attended the IKA (Institute for Arts and Craft) in Mechelen, from where she graduates in ceramics, in 2006.
Since then, she has participated in competitions, and won numerous prizes: the Henri Van de Velde-label (2008), Prizewinner at the Open to Art Competition, Officine Saffi, Milan (2014), the First Prize at the Parcours Carougeois, Geneva (2011), to name only a few.
Her work is part of the collections of museums all over the world, from Royal Museum of Art and History in Brussels, to the Museum of Arts and Design, in New York.
She has been interviewed in several TV reportages, the most recent one by Kanaal Z
In Ann's work, everything seems to originate from a flawless order and geometric logic. With deceptive ease, Ann Van Hoey succeeds in bringing about a new order and a new logic that are her own, the order and logic of a clear and pure line that seems almost compass-drawn, aiming for a technically impeccable result and an aesthetic that is as simple as it is seductive.
Her current exhibition is at Het Atelier, until 23rd of July.
At CreativeMornings Brussels, Ann will dust off the image of ceramics as a sometimes old-fashioned art, and reveal its contemporary and modern side. The beauty of her pieces makes us even more keenly aware of the fragility of ceramics.
Local partners
Apex Coffee offers Delicious Coffee Service to Brussels' entrepreneurs and employees. Freshly roasted coffee - by the top crop of Belgian Specialty Roasters - and Service to match: that's our story!
Beursschouwburg is a multi-disciplinary arts centre in the heart of Brussels. We present performing arts, film, concerts, visual arts, debates, lectures, parties and … we have a great café and rooftop terrace!
Additional details
CreativeMornings is a breakfast lecture series for the creative community. Our free, monthly events feature a short talk, meaningful conversations, and… breakfast!
Location