Amba Salelkar
August 25, 8:30am - 10:00am IST. Hosted at The Board Room
part of a series on Justice
About the speaker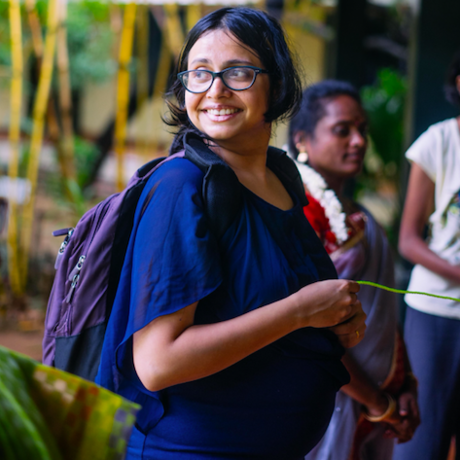 Amba Salelkar is based in Chennai. She is a lawyer who works primarily in the area of law and policy around gender, disability and mental health.
Amba is a graduate of the National Law School of India University. She practiced criminal law in Mumbai at the chambers of Advocates Raja Thakare and Avadhut Chimalker till 2012. Her area of focus included socio-economic offences, corporate criminal law, and gender based violence.
Amba moved to Chennai to work on disability and mental health with the Inclusive Planet Centre for Disability Law and Policy in 2012. In 2014, she was a recipient of the Chevening Gurukul Fellowship in leadership and excellence at Kings College, London. She is now a Board Member of the Equals Centre for Promotion of Social Justice where she works on evidence based advocacy towards law and policy reform for the inclusion of persons with disabilities. She is also the co-founder of Paarvai Advisors which provides professional services to organizations to promote and preserve diversity and inclusion in the workplace, including through anti sexual harassment policies and redressal mechanisms.
Amba is trained in inclusive facilitation methods, which are rooted in creative processes. She has facilitated the training of a variety of stakeholders in workshops in different settings across India and the Asia region.
Local partners
Additional details
What is the event like? CreativeMornings is about community and inspiration. Come for both! Registration will begin at 8:30am, and we'll have coffee and breakfast ready for you. Coffee time is great for meeting the other CreativeMornings attendees. The talk will start at 9:10am followed by Q&A. We like giving high-fives.
This Month's Theme: This month's theme is Justice, chosen by our CreativeMornings/Bratislava chapter, illustrated by Simona Čechová.
Schedule:
08:30am - 09:00am Breakfast
09:00am - 09:10am People get seated
09:10am - 09:35am Talk by Amba Salelkar
09:35am - 09:40am Q&A
09:40am - 10:00am Mix, mingle and linger
10:00am Pack up

Questions? Please let us know if you have other questions about the event: Facebook, Instagram
Location
Hosted at The Board Room
3, Bheema Sena Garden St, Nagarathinam Colony, Sullivan Garden, Mylapore, Chennai, Tamil Nadu 600004
Chennai, Tamil Nadu India 600015
When August 25, 2019
8:30am - 10:00am