Amanda Perna
April 21, 8:30am - 10:00am EDT. Hosted at Saltwater Brewery
part of a series on Beyond
About the speaker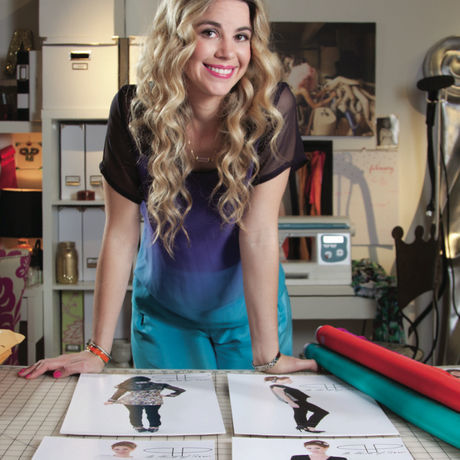 Fashion Design & Project Runway contestant.
Amanda Perna is a Mom, Wife & Fashion Expert who believes in looking beyond the easy road to follow your dreams. While studying Fashion Design at the University of Alabama, Amanda achieved one of her dreams: a design internship at Oscar de la Renta and the following summer an internship at Calvin Klein. With an entrepreneurial spirit, at the ripe old age of 19 she started her first fashion brand - Couture Chaos. Before graduating college, Amanda was offered a job at Calvin Klein which she gladly accepted and finished her studies a semester ahead of schedule to start living her dream. Always interested in learning and growing, Amanda furthered her studies at the Fashion Institute of Technology while working full time as a fashion designer. Although she was working her ideal job, Amanda wanted more; to own her own business. She wanted to create whimsical, bold clothing that was made in the United States, providing fair wages and safe work conditions. Against the advisement of everyone she knew, Amanda quit her job and started her business - The House of Perna.
While starting her business, Amanda took freelance jobs as a Stylist and eventually took a job with Bloomingdale's doing Visual Merchandising. To her excitement, her business began to grow and Amanda was able to work on her brand full time. After many successful runway shows durning New York and LA Fashion Weeks, The House of Perna quickly grew and expanded into Handbags and Men's Neckties. The House of Perna has received extensive press coverage and has been sold in boutiques worldwide as well as in major retailers such as Bloomingdale's, Neiman Marcus, Anthropologie and Nordstrom. Always on a quest to push herself, Amanda has also worked on a variety of other projects and collaborations. She has been featured as a textile designer and fashion illustrator for brands such as Hallmark and Basler. She is currently collaborating with a Shark Tank alum on the swim brand Versakini and styles celebrities for national commercials. Above all else, Amanda believes in helping others - she is a mentor to students and works with many new brands to help them achieve their dreams as well.
Since moving from New York, Amanda's brand, The House of Perna, has been proudly based in Delray Beach, Florida where Amanda and her team design and produce luxury, custom clothing in their fashion atelier.
P.S. She was also on Project Runway twice.
Local partners
Additional details
EARTH DAY FUN: In honor of the Earth Day, we are doing something different in April. We ask that YOU Bring-Your-Own-Mug (BYOM) to the event on Friday 4/21 to help us minimize plastic and paper waste. (Thanks for the idea CM St. Pete) Here are some stats to consider:

• Enough plastic is thrown away each year to circle the earth four times.
• The average American throws away approximately 185 pounds of plastic per year.
• Plastic accounts for around 10 percent of the total waste we generate.
RAFFLES: We will have cool prizes to raffle off at the event in order to help us raise some funds to cover the cost of these events, which the organizing team is currently covering out of pocket. Please bring a few dollars in cash if you'd like to support us.
EVENT PARKING: Saltwater Brewery is located just West of Atlantic Avenue exit on i-95. There is a big parking lot at the venue. No parking fees at this location.
Location
Hosted at Saltwater Brewery
1701 W Atlantic Ave,
Delray Beach, Florida 33444
When April 21, 2017
8:30am - 10:00am