Alberto Noriega
July 31, 8:00am - 9:00am BST.
part of a series on Underdog
About the speaker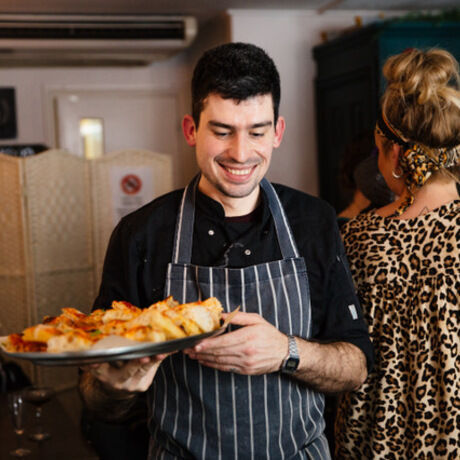 Alberto Noriega moved to Bristol in 2014 from the north west of Italy, he started Grano Kitchen in 2017 as a side business. After a year of experience in fishponds and Easton food assemblies markets selling his homemade lasagna, he open his first shop in Glitch, a hub located in Old market, Bristol.
Few months later due to the high demand of his product, he moves within To The Moon pub still located in Old Market. During this time Grano took the attention of the public and the media, gaining positive review and the title of "best lasagna ever" from Mark Taylor, a well known local food critic. Grano ethos is Proper Italian Food, that means not only what we eat, but also how we eat.
Traditional recipes with a Bristol twist, fresh ingredients, small menu with new specials every week, all dietary requirements covered and a constant traction towards the best level with a product that have nothing to envy to the pizza slices / pasta bar in Italy. From the Italians to everyone who appreciate food made with love and effort, the real way.
Additional details
Hello everyone,
We will be doing our first Instagram Live on Friday 31st on the topic of 'Underdog' so join us for a fun morning with a good cup of coffee.
https://www.instagram.com/cmbristoluk/
See you on our Instagram page!
When July 31, 2020
8:00am - 9:00am