Coffee with CreativeMornings Ottawa [VIRTUAL]
– Hosted at Online
part of a series on Identity
About the speaker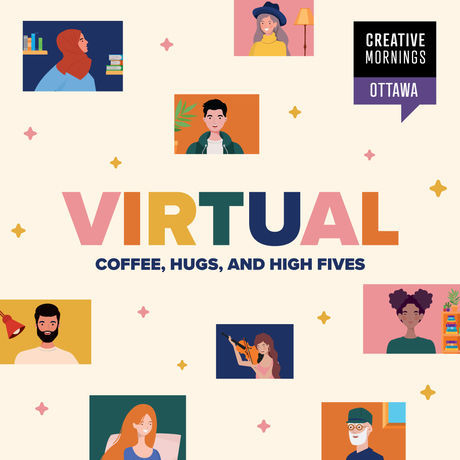 Join us for digital hugs and high-fives, chats and music at our first virtual CreativeMornings Ottawa event!
It's with heavy hearts that our team had to cancel the in-person portion of our events, but that doesn't mean we cannot continue to connect!
Tune in from your couch with a cup o' joe to enjoy music from Canadian singer-songwriter and Juno & Polaris Music Prize nominee, Kalle Mattson, have a group conversation, get some face-time with other local creatives and hear from our audience on our virtual stage!
This will be our first time hosting a virtual event, so be patient with us. We are going to try and make it as CreativeMornings Ottawa as possible… just with digital hugs and high fives.
Register as usual, and we will email all attendees with details about how to join virtually before the event.
What to Expect:
8:30-9:00 a.m.  Sign-on, grab a coffee and get comfy. Feel free to introduce yourself in the chat!
9:00 a.m.   Welcome and intro by our hosts.
9:10 a.m. Performance by Canadian singer-songwriter Kalle Mattson! 
9:15 a.m.Guided small group discussions on creativity and Ottawa. 
9:40 a.m. We'll meet back up in the main event room to share outcomes.
How to participate: If you want to share what your breakout group discussed with the larger group, use the "raise hand" feature in the chat, you will then be unmuted and invited to speak! Agree with something? Use the "thumbs up" feature in the chat.
9:45 a.m. Group Stretch lead by Spinco Ottawa instructor Caitlin Teed!
9:50 a.m. Audience takes the stage! Have any thoughts? Know of any virtual events, workouts, creative solutions or classes? Share with us! Use the "raise hand" feature to be selected to speak. To ensure we can get as many people as possible please keep it to 30 seconds max.
9:57 a.m. "ONE LAST SONG" by Kalle Mattson!
10:00 a.m. Closing. Feel free to stick around and chat with others or collaborate on our virtual mural! 

Local partners
Additional details
About Kalle Mattson:
Since 2009 he has released four full-length albums & two EPs to critical & commercial acclaim. His first music video for "Thick As Thieves" gained over 1,000,000 views & was covered by Time Magazine, NPR & The Huffington Post. It was followed in 2014 by Mattson's third full-length studio album, the Polaris Music Prize-nominated "Someday, The Moon Will Be Gold", which was inspired by his hometown on the Canadian/U.S. border and the death of his mother five years prior. It received glowing reviews from Pitchfork, Pop Matters, Rolling Stone, & Exclaim called it - "simply, a benchmark in fearless songwriting." It was promoted by multiple tours across Canada, the US & Europe. August 2015 saw the release of a new EP, "Avalanche", which Mattson described as a mini-LP concerning the twenty-something miasma of "anxiety, nostalgia, the past, the future." The music video for "Avalanche" received widespread media attention & was nominated for a 2016 Juno Award, a 2016 Much Music Video Award & won the 2016 Prism Prize. On his newest album, 2018's "Youth.", Mattson set out to make a coming-of-age album about the in-between days of post-adolescence and pre-adulthood. It was released to rave reviews with Dominionated saying - "file it under instant classic."
Location
Hosted at Online
The internet
World Wide Web, Canada
When
–