Two Year Birthday Bash
– Hosted at Hatch Fenway
part of a series on Reality
About the speaker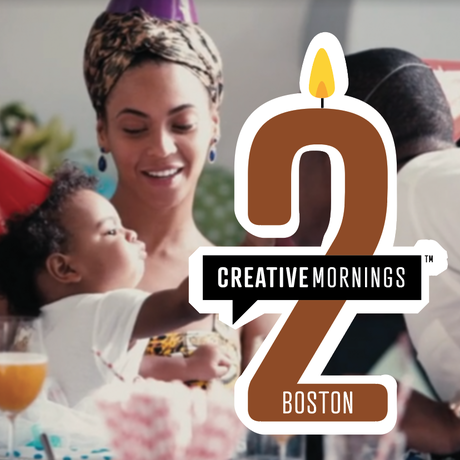 Well let's be honest… It's been a wild two years.
Who would have thought that in only 24 months we would go from our humble beginnings (characterized by me begging sponsors to give our young community a chance), to eventually host more than 30 morning and evening events, attended by an active community of more than 3,000 Boston creatives. (Fun fact: In that time, you gloriously gluttonous guys and gals have drunk more than 3,500 cups of coffee, taken more than 1,900 Danger Booth photos, and eaten more than… well, a lot of donuts.) Our attendees have made new friends, found new jobs, started new projects, and even created some new little CM attendees of their own. The truth is, I've been blown away by how much our community has grown (both in size and in closeness) over the last 24 months. And we owe it all to you.
So to celebrate, we're throwing a huge two year birthday bash. There will be music, libations, giveaways, past speakers, and, best of all, a few hundred Boston creatives there to help us kick off another year of amazing CreativeMornings events. Best yet, it will be at night, so we can all finally turn up without fear of getting fired for missing work.
So come. Bring friends. Hang out. Enjoy yourselves. And get a little weird. Events like this only happen once in a… two year period.
And again, thank you. CreativeMornings is the most enjoyable, most inspiring, and most inclusive organization I've ever been a part of, and I owe it entirely to you, the amazing CMBoston community.
Local partners
Additional details
Alcohol, Mexican food, crowd-sourced music, and a whole lot more. Come join us for an evening of celebratory creativity, complete with drawing and photo competitions, libations, giveaways, pool, ping pong, swings, audience pitches, and bad party games… or just a bunch of sitting around and chatting with a few hundred other Boston area creatives. Either way, just come, have some fun, and let us throw you a giant thank you birthday bash.
Location
Hosted at Hatch Fenway
Landmark Center, 401 Park Drive
Boston, Massachusetts United States 02215
When
–