Tudor Giurgiu
May 25, 8:30am - 10:00am EEST. Hosted at ClujHub
part of a series on Commitment
About the speaker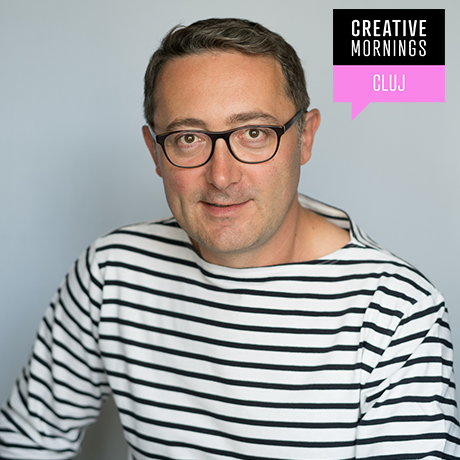 Romanian film director and producer, Tudor is inspired by the everyday life in Romania, seeing film subjects everywhere. He is a member of the European Film Academy, the founder and President of Romanian Film Promotion and its premier event, the Transilvania International Film Festival (TIFF) - the most prestigious film-related event in Romania, considered by Indiewire as one of the "world's top 50 leading film festivals".
Founded in 2002, in the town of Cluj-Napoca, Transilvania IFF has grown rapidly to become the most important film-related event in Romania and one of the most spectacular annual events in the region. Transilvania IFF's main goal is the promotion of cinematic art by presenting some of the most innovative and spectacular films of the moment that feature both originality and independence of expression, that reflect unusual cinematic language forms or focus on current trends in youth culture.
Tudor's directorial debut feature Love Sick was selected in Panorama section of 2006 Berlinale and awarded in several int'l festivals). His short Superman, Spiderman or Batman (2011) won many festivals worldwide (Aspen, Valladolid, etc) and won Best European Short at the 2012 edition of European Film Academy Awards. Tudor's 2nd feature, Of Snails and Men, was awarded with Special Jury Prize in Warsaw IFF, Best Film of "Punto di Encuentro" section of Valladolid IFF. His most recent film "Why Me?", an unsettling legal thriller based on a real case of corruption in present-day Romania, premiered in 2015 Berlinale Panorama and was awarded in Sofia, Miskolc and Tarkovsky IFF. Tudor produced or co-produced many feature films such as Katalin Varga by Peter Strickland (Silver Bear in 2009 Berlinale and European Discovery of the Year at EFA Awards), Mission of the Human Resources Manager by Eran Riklis (Audience Award in Locarno 2010), Cendres et Sang by Fanny Ardant (Cannes 2009), Cannibal by Manuel Cuenca (Toronto and San Sebastian 2013), History of Love by Radu Mihaileanu (2016).
With his passion and commitment for the art of cinematography, Tudor has managed, alongside his team, to build a strong and beautiful community of film enthusiasts and professionals, to make TIFF a real brand of the city. With its presence in the city for 17 editions (25.05 – 03.06.2018), TIFF is shaping both audience preferences and professional choices. Today Cluj has the largest film audience in the country and it is steadily developing into a hotspot for film production.
And now, one of the most popular questions addressed to a film director 😊 : which film changed your life? Tudor: 'Knife in the Water by Roman Polanski. I don't know exactly why, I saw it when I was 18 years old and it raised many questions on how and what a film director does.
Local partners
Location
Hosted at ClujHub
Ferdinand 22-26 (3rd Floor in CENTRAL Commercial Center)
Cluj Napoca, Cluj 240064778
When May 25, 2018
8:30am - 10:00am