Todd Snovel
June 26, 8:30am - 10:00am EDT. Hosted at Center / Architecture + Design
part of a series on Insecure
About the speaker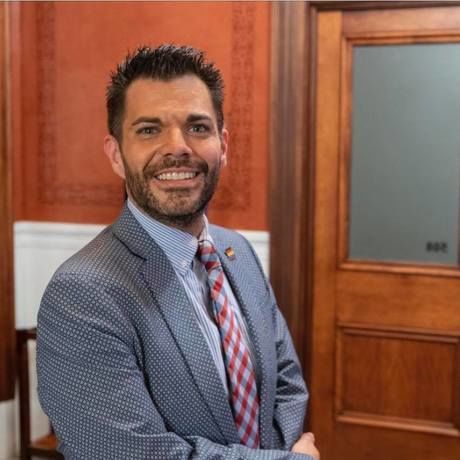 Todd Snovel is Chief of Staff and Special Assistant to the President for Strategic Initiatives at the Pennsylvania College of Art and Design (PCAD) in Lancaster. He forms and cultivates strategic partnerships, actualizes the College's strategic plan, and leads institutional projects and activities. Before joining PCAD, Todd was appointed by Pennsylvania Governor Tom Wolf as the inaugural Executive Director for the Pennsylvania Commission on LGBTQ Affairs. In this role, he advised the Governor on policies, practices, legislation, and systems that impacted LGBTQ individuals and communities.
Todd is active in his community surrounding his passions of equity, education, and the arts. He serves as the chair of the Lancaster LGBTQ+ Coalition, and is a board member for the Keystone Business Alliance, the Lebanon Community Theatre, and the Fund for Women and Girls through the Foundation for Enhancing Communities. He also serves as a Foundation Trustee for ACPA: College Student Educators International.
Local partners
Center / Architecture + Design // The Center provides Philadelphia with educational programs, exhibitions, and a public forum to explore architecture, urban planning, and design, allowing visitors the opportunity to understand how these disciplines affect us all in our daily lives. Using our city's distinctive breadth of architecture, pioneering urban design, and manufacturing heritage as the foundation for conversation, we educate the public through talks, exhibitions, publications, hands-on workshops, design competitions, festivals, and children's programming.
honeygrow is a fast-casual restaurant concept born in Philadelphia in 2012, specializing in wholesome, fully customizable stir-fries, salads, honeybars + cold pressed juices. honeygrow's mission is to connect with each community it calls "home," offering up amazing experiences through the lens of nourishing foods.
Counter Culture Coffee is dedicated to finding and bringing to market the most exciting and delicious coffees in the world. We approach our work with a passion for the ideal of coffee perfection, a dedication to real sustainability, and a commitment to cutting-edge education throughout the coffee chain.
Location