Tim Guthrie
January 12, 8:00am - 9:30am CST. Hosted at Joslyn Art Museum
part of a series on Anxiety
About the speaker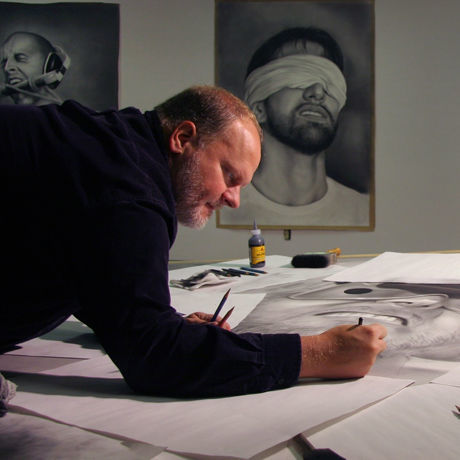 It used to be that anxiety played no part in my work. In fact, the only thing I was even slightly anxious about was falling into a rut or repeating myself.
I recall a podcast discussion with a designer friend I admire, Steve Gordon, who is outstanding with design, branding, etc., and a fantastic entrepreneur I also admire, Megan Hunt. I explained how I work on a series, then completely abandon it once I've completed it, then start fresh in a new direction, from scratch, and both reacted as if I might be insane.
The truth is, concepts drive my work, and I change medium and style fairly frequently, depending on the needs of the concept at hand. I'm never really anxious about taking on new things, so apprehension played little part in my work.
That is, until I woke up one morning and my wife was gone. Her death, and that day, changed everything.
It's been almost impossible to return to any creative endeavors, especially art made in a studio. In fact, it's been nearly five years since I've done anything significant in my studio.
I found over the past two years that, if I was doing something that honored Beth, however, I was able to bare my soul like I've never done with any previous work. Yet, showing that work and talking about it has been more challenging than any other presentations I've done. I can't even watch my film, my love letter to her, with an audience. I hide and inevitably leave the theater during most screenings.
Suddenly, I can't avoid anxiety. But, the truth is, I've never run from it, either. I have a tendency to run toward anything that makes me uncomfortable or nervous. I want to address concerns and things that make me tense.
Hopefully that continues to propel me forward in the years to come. I'm actually a bit anxious about that.
Local partners
Additional details
Tim Guthrie has been awarded Independent Artist Fellowships in 2011, 2008, 2007 and 2006 (Distinguished Artist, Filmmaker) from the Nebraska Arts Council for both his traditional and digital art, as well as his experimental animation and documentary work. He was also awarded Best Visual Artist, Best Show (Museum of Alternative History), and Best New Media Artist in 2015 by the Omaha Arts and Entertainment Awards, as well as Best Show in 2011, and both Best New Media Artist and Best Show in 2008, for "Nuclear Dichotomies" and Best Exhibit in 2011, for "Extraordinary Rendition." He also presented his multi-media work at the Sorbonne in Paris, France (Summer 2012). Residencies include the Blue Mountain Center, Vermont Studio Center, Hall Farm, Virginia Center for Creative Arts, and other awards and fellowships include International Sculpture Center, the Sierra Arts Foundation, and the Nevada Arts Council, each funded by the NEA, among others.
His films have won numerous Best Documentary awards, 2017 Humanitarian Award (GIFA), Audience Awards and other awards, and shown widely, including in Wales, UK (International), Sweden (High Coast), Bucharest, Sydney (World Film Festival), Hiroshima Animation Festival, 5th Annual Athens International Animation Festival (Greece), Control Arms Conference (Italy), Chagrin Documentary Film Festival, and film festivals in London, Miami, Copenhagen, Hollywood, and Toronto.
He teaches at Creighton University.
Location
Hosted at Joslyn Art Museum
2200 Dodge St
Omaha, Nebraska 68102
When January 12, 2018
8:00am - 9:30am