nyc
What are FieldTrips?
FieldTrips are meetups to interact, learn and collaborate in an effort to level-up your creative life.
We're limiting these events to only 25 people, they're like an intimate dinner party. Your absence will be felt so please make sure that you can definitely attend if you sign up. Also, we're in the prototyping phase, so come with an open mind and be prepared for anything.
Thanks for participating! We're lucky to have you.
The Espresso Machine: What is it and how you use it with Michael Bewley of KL5 Home
October 13, 10:00am - 12:00pm EDT. Hosted at KL5 Home Showroom
About this FieldTrip
Come to the KL5 Showroom and learn about what is happening inside those espresso machines you see on the counter of every cafe.
Prepare to be over caffeinated on knowledge! Join a small group in Bushwick and get to see the inner workings of the modern espresso machine and learn about the systems that come together to make one of the most complex and popular beverages in the world.
Oh, and while we are at it, once you have mastered the mechanics of how the machine works, you will learn about the basics of what makes espresso espresso, how to dial in a grinder, and milk steam basics.
The 90 minute visit will be broken into three sections: The mechanics of the modern espresso machine, what makes espresso ESPRESSO, and hands on time with some of the best home espresso machines in the industry.
No previous skill necessary but a general curiosity, sense of wonder, and love of coffee is a must. This will be a crash course overview, it will be fun and informative but sadly not qualify you for a lead barista job.
Michael Bewley is the owner and founder of KL5 Home and KL5 Coffee. Having started his journey with coffee 20 years ago, he finds lots of joy in sharing both his knowledge and enjoyment of coffee, believing the more you know about the process the more enjoyment you can get out of it.
–
They're back! We're excited to share that FieldTrips are coming back to CreativeMornings/NewYork in partnership with Adobe. You can apply to host a FieldTrip here.
Local partners
Adobe is the global leader in digital marketing and digital media solutions. Our tools and services allow our customers to create groundbreaking digital content, deploy it across media and devices, measure and optimize it over time, and achieve greater business success. We help our customers make, manage, measure, and monetize their content across every channel and screen.
Organizer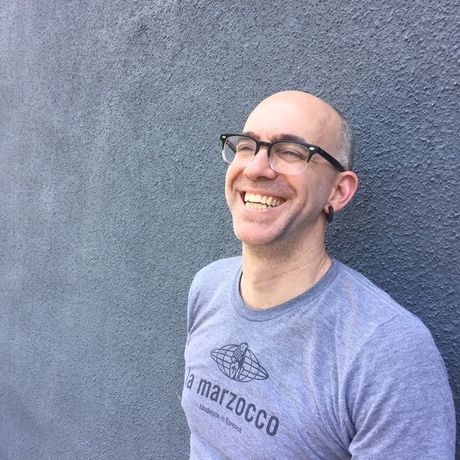 Michael Bewley
Location
Hosted at KL5 Home Showroom
117 Grattan St. #404
Brooklyn, New York United States 11237
When October 13, 2018
10:00am - 12:00pm