Terresa and Jordon Moses
August 16, 8:30am - 10:00am CDT. Hosted at Northrop
part of a series on Justice
About the speaker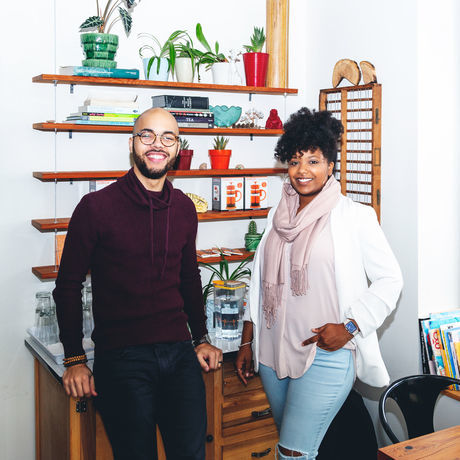 Terresa (she/her/hers) is the Creative Director at Blackbird Revolt, an Assistant Professor of Graphic Design at UMD, the creator of Project Naptural, and co-collaborator of Racism Untaught. She serves on the executive boards of the Duluth NAACP, the Clayton Jackson McGhie Memorial Committee, and on the board of AIGA Minnesota as the Director of Diversity & Inclusion.
Jordon (he/him/his) is the Visionary Director at Blackbird Revolt, the Event Planner for the 100-Year Commemoration for the Clayton Jackson McGhie Memorial Committee, and the creator of All Black Zine. He serves as a member of the Duluth NAACP and as a community organizer and advocate.
"Thus all Art is propaganda and ever must be[…]. I do not care a damn for any art that is not used for propaganda. But I do care when propaganda is confined to one side while the other is stripped and silent." –W.E.B.DuBois (full quote found here) At Blackbird Revolt we recognize the impact of creative art forms within social justice movements and the part we can all play in furthering positive change in our communities. As a team, we want to find ways to support the causes we care about while providing opportunities for others to do the same. With our creations we aim to inspire people to engage in dialogue and activism. Blackbird Revolt aspires to break the social & political barriers that keep us caged. Our designs go beyond media and apparel, we find creative solutions to help challenge the way people think about the world.
Photo credit: Nemuel Sereti
Local partners
Additional details
What is the event like? CreativeMornings is about community and inspiration. Come for both! Sign-in will begin at 8:30am, and we'll have coffee and breakfast ready for you. Coffee time is great for meeting the other CreativeMornings attendees. The talk will start at 9 followed by Q&A. We like giving high-fives.
This Month's Theme: Justice This month's theme is Justice, chosen by our Bratislava chapter and illustrated by Simona Cechova.
Venue Note on Shoes Northrop is a lovely venue and they have one request: please no high-heel shoes. If you must wear them for work, you'll have to take them off. Thanks!
Parking? Please visit this page for parking options.
Questions? Please let us know if you have other questions about the event: minneapolis [at] creativemornings.com
Location
Hosted at Northrop
84 Church St SE
Minneapolis, Minnesota United States 55455
When August 16, 2019
8:30am - 10:00am