Terra Castro
– Hosted at Detroit Body Garage
part of a series on Broken
About the speaker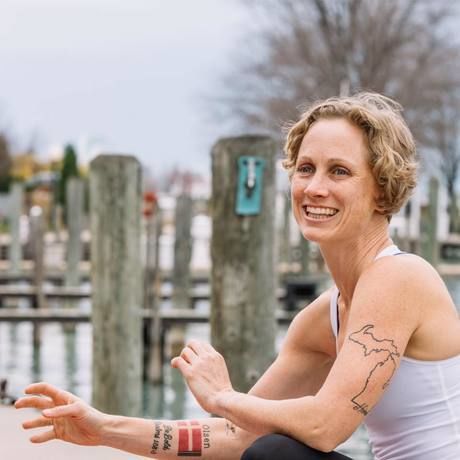 After 11 years on the road racing as a professional triathlete, Coach Terra decided to return to where it all started: Detroit. Here, she founded the Be Bold Crew, a fun and friendly group of bold endurance athletes who would pop-up and train anywhere and everywhere throughout the city.
Over a year of growing, training and racing later, Terra recognized the need to offer fitness opportunities beyond endurance sports, and eagerly jumped at the opportunity to launch the Detroit Body Garage in Detroit's West Village. Already home to many great home-grown businesses–such as The Red Hook, Parker Street Market and Sister Pie–Terra is excited to bring her commitment to helping others become vehicles of change through movement and community to this great neighborhood and city. The focus is rebuilding one part at a time.
Terra's story is one of being BOLD despite the storms. What started as a broken heart due to divorce when she moved back to Detroit, blossomed into learning to love again. This is thanks to a city that is also being BOLD + rebuilding.
Social Media: @beboldcrew @detroitbodygarage instagram website: www.beboldcrew.com www.detroitbodygarage.com
Local partners
Additional details
While you're waiting to grab your ticket for this month's event, hop on over to their website to learn more about their awesome mission and how you can help.
A huge thanks to this month's sponsors as well: Detroit Body Garage for hosting us in their new space, Luna and Cliff Bar for providing some breakfast fuel, and Red Hook Coffee for their generous java contribution. Amy Sacka will also be on hand to capture the morning's crowd. We couldn't do it without your help!
Tickets go on sale Monday, June 13th.
For more information please visit www.creativemornings.com/cities/det or e-maildetroit@creativemornings.com. CreativeMornings/Detroit is on Twitter at @Detroit_CM and Facebook at www.facebook.com/creativemorningsdetroit.
Location