Technology Takes the Stage
October 30, 6:00pm - 8:00pm CDT. Hosted at WeWork — Flatiron School
About the speaker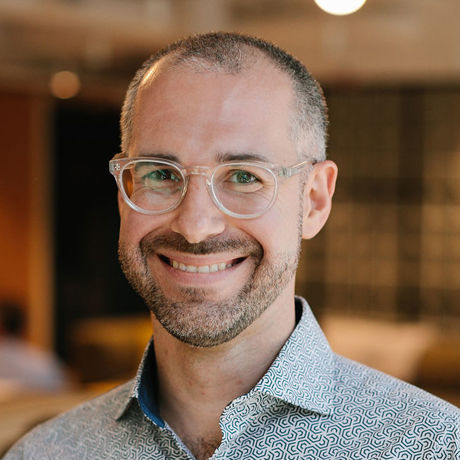 Mo Goltz is a Lead Design Instructor at the Flatiron School. He utilizes his background in UX Research and Design to help people enhance their ability to collaborate and systematically solve problems. Mo also volunteers for several nonprofits to lead initiatives involving strategic planning, event design, and storytelling.
Local partners
Kickstart your career in tech with Flatiron School! We are a global tech bootcamp with on-campus and online programs that trains passionate people to excel in rewarding careers in software engineering, data science and UX/UI design. With Flatiron School, you'll change careers with confidence with a dedicated career coach. Learn more at www.flatironschool.com.
Additional details
In addition to our regular Friday series, on Wednesday, October 30, 2019, CreativeMornings and the Flatiron School will co-host an evening event for the month of Flow–Technology Takes the Stage!
We will explore how creativity and technology work in harmony to cultivate sustainable solutions in Chicago.
How do you bring this important relationship together? Eager to share your passion with the greater creative community?
Call for Speakers
We're seeking 2 panelists from the audience to join our guest speaker from the Flatiron School. Maybe you're a UX Designer, a Coder, an Inventor, a Digital Strategist, a Wearables Extraordinaire, etc.
Apply by completing this Typeform and 1 Minute Video Pitch no later than Friday, October 11th at 7:00pm. The announcements of the selected 2 community panelists will be made on Monday, October 14th.
All food and fall inspired beverages are sponsored by our local partner, Flatiron School.
Registration Information
Set a second alarm! Registration goes up on Monday, October 28th at 11:00 am for Technology Takes the Stage.
Schedule
Doors open at 6:00pm. Speaker starts at 6:30pm.
Location
Hosted at WeWork — Flatiron School
515 N State Street, 14th Floor
Chicago, Illinois United States 60654
When October 30, 2019
6:00pm - 8:00pm