Event Postponed - Tea Uglow
– Hosted at Your Living Room
part of a series on Identity
About the speaker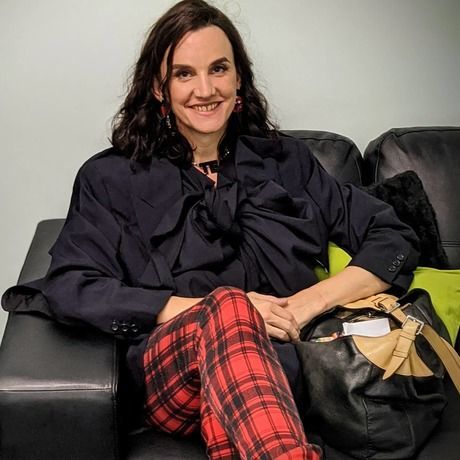 Tea Uglow is a writer, LGBTQ activist, and a speaker on innovation, inclusion, and digital futures.
Tea founded Creative Labs for Google in Sydney and London and focuses on projects with cultural organisations to enable artists, writers, dancers and other cultural practitioners to digitally augment or interpret their work. She has been involved with 10 book projects, 17 websites, 6 apps, a feature film, 3 plays, 2 concerts, 4 museum exhibits, lots of advertising stuff, and some teddy bears that talk.
By experimenting with digital tools at the creative core of culture the aim is to transform existing cultural practice without losing the tradition, values and intangible qualities that make the arts so valuable.
Tea explores new models for interaction with the invisible information all around us. This is often described as 'beyond screen': options that are not screens in our hand, or in our lap, or on our face. As a team we look to augment our daily physical reality with digital content, ideally cultural content.
The Creative Lab is a global team of creators, developers and film-makers who examine the technology that surrounds us and explore the potential of digital tools to make the world a better and more enjoyable place. It was founded in 2007 by Andy Berndt who runs the main Creative Lab in Google New York.
Tea currently advocates for mental health and transgender awareness and mentors queer, female and other intersectional creators and writers worldwide. She likes pop-physics, neuroscience for beginners, queer twitter, and shopping.
Local partners
Wacom wants to inspire people and make the world a more creative place through its natural and intuitive line of digital pen tablets, pen displays and styluses. Whether a creative enthusiast seeking a new artistic outlet or a high-end professional making the next big animated movie or industrial design, Wacom allows people to explore creativity at a level they never dreamed possible.
Additional details
Our decision to cancel was based on input from our speaker, volunteers and partners. We will reschedule Tea's talk later in the year. Please let us know any thoughts, comments or concerns – we're here for you.
We'll see you back soon!
Location
Hosted at Your Living Room
where ever you live
Sydney, Australia
When
–