oak
What are FieldTrips?
FieldTrips are meetups to interact, learn and collaborate in an effort to level-up your creative life.
We're limiting these events to only 25 people, they're like an intimate dinner party. Your absence will be felt so please make sure that you can definitely attend if you sign up. Also, we're in the prototyping phase, so come with an open mind and be prepared for anything.
Thanks for participating! We're lucky to have you.
Story and Re-Story: Past, Present, and Future at America's Oldest Storybook Theme Park
– Hosted at Children's Fairyland
About this FieldTrip
PLEASE NOTE:
This is a grownups-only event. Children are NOT allowed on this FieldTrip.
A rare opportunity to explore America's oldest storybook theme park, founded in 1950 on the shores of Lake Merritt in Oakland – and usually open to adults only when they're accompanied by children. Participants will receive a behind-the-scenes tour of the 10-acre park and its whimsical sets and themed gardens. Our art and restoration director will share the secrets of her craft and will talk about the art of handpainting signs and restoring vintage sets. Our puppetmaster will take participants backstage at the oldest continuously operating puppet theater in the U.S. and talk about the wide variety of handcrafted puppets used in Fairyland's year-round puppet shows.
Fairyland is a local treasure and the inspiration for Disneyland, which opened five years after Fairyland's opening. One of very few outdoor theme parks designed expressly for young children, it focuses on stories, literacy, and imagination.
Attendees can bring sketchpads or notebooks if they like. Photography is welcome.
This FieldTrip is hosted by Nancy Friedman, Shannon Taylor, Randal Metz, and C.J. Hirschfield.
–
View all upcoming FieldTrips
We're excited to introduce FieldTrips in partnership with Adobe. Submit an idea to host your own FieldTrip here.
Local partners
Adobe is the global leader in digital marketing and digital media solutions. Our tools and services allow our customers to create groundbreaking digital content, deploy it across media and devices, measure and optimize it over time, and achieve greater business success. We help our customers make, manage, measure, and monetize their content across every channel and screen.
Organizer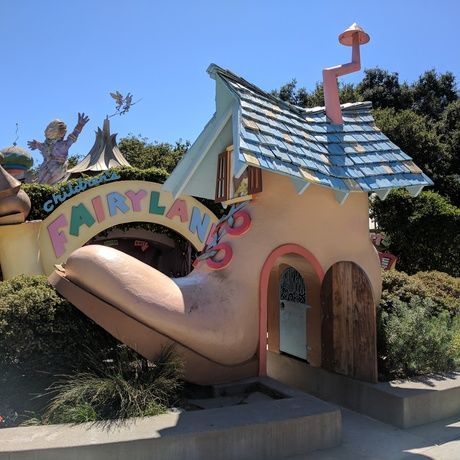 Nancy Friedman
Location