Stefan Hunt
November 24, 8:30am - 10:00am AEDT. Hosted at Work-Shop
part of a series on Death
About the speaker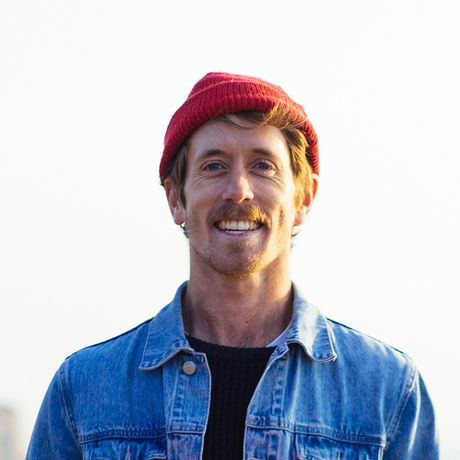 Stefan Hunt is a film director, artist, author and has just launched his first multimedia festival titled We're All Going To Die.
It all began in 2006 when he packed his camera, headed to the USA, bought an ice cream truck and drove to all fifty states to make a documentary. No lie. This adventure set him on his way to directing films all over the world capturing beautiful stories, making new friends and eating tacos. He has gone on to collaborate with the biggest global brands, directing multi award winning documentaries, commercials, music videos and TV series.
But none of this really defines why he does it, and the why is important to Stefan. You see, he believes that creativity and social impact should not be mutually exclusive and his work consistently reflects this. Often narrating through the eyes of a child, his films, art and stories are naive yet poignant, reminding us that we were all once children. And through it all there will always be one sentiment. To inspire change through creativity.
The We're All Going To Die festival was born out of his own experience. "You see, I have anxiety, and it sucks. Two years ago it was really bad. I was so afraid of the unknown I couldn't make a simple decision. Life spiralled. But one day I penned a poem We're All Going To Die and everything changed. Suddenly my fears seemed small. I realised that if life's only guarantee is death then why not take a few risks. The moment you realise that you're not the only one living with fears is the moment it all changes and this festival is a great platform to get people talking."
Local partners
Streamtime is designed to help manage your busy creative studio - to make sense of the daily chaos that occurs in any creative company. If you're looking for a studio management tool doing things differently, Streamtime software is for you. It's built for the way we work today. It's great for large and small businesses and designed for freelances too.
Wacom wants to inspire people and make the world a more creative place through its natural and intuitive line of digital pen tablets, pen displays and styluses. Whether a creative enthusiast seeking a new artistic outlet or a high-end professional making the next big animated movie or industrial design, Wacom allows people to explore creativity at a level they never dreamed possible.
Origin84 offer whip-smart ideas and advice for businesses who earn a living with their Macs. Based in Surry Hills, they focus on helping studios get running and stay running. From the basics – such as help-desk support, networking, back-ups and troubleshooting – all the way up to strategic consulting advice on the latest storage platforms and workflows for boosting productivity, Origin84 gives Sydney's design and marketing agencies the proactive support they need.
Location
Hosted at Work-Shop
Cnr Cleveland St & Eveleigh St Redfern
Sydney, NSW 2016
When November 24, 2017
8:30am - 10:00am