Stanley Hainsworth talks about the creative value of investing in oneself and in others.
About the speaker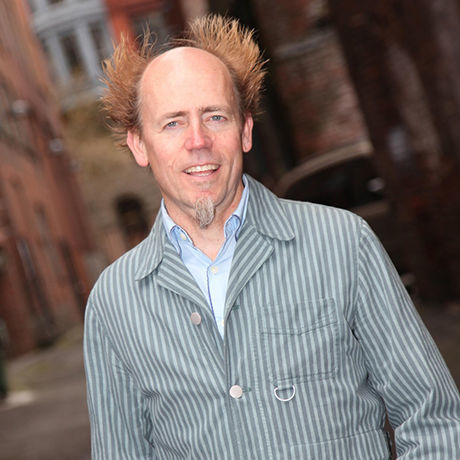 Stanley Hainsworth is a highly attuned branding machine. He mastered the art of brand story craft while serving as the creative-in-chief at three of the great brands of our time: Nike, Lego, and Starbucks. He served as vice president of Global Creative during the coffee company's maturation into the cultural icon we know today. His creative influence extended from campaigns to all consumer touchpoints. Prior to that, as global creative director for the Lego Company in Denmark, Hainsworth directed a total visual overhaul of the brand, including advertising, interactive, packaging, retail and brand stores. At Nike, he worked on everything from the brands associated with the Olympics to creating Nike Entertainment. Hainsworth founded Tether, a global creative, cross-discipline studio in 2008. From redesigning a handcrafted Italian coffee brand to reflect its rich heritage to creating engaging and shareable stories for BMW Motorcycles, Tether has a passion for well-told tales. He has written books on branding, is an educator, a regular contributor to the Huffington Post and a sought-after speaker on branding and design worldwide.
How do you define creativity and apply it in your life and career? Creativity is two parts for me. Design is creative problem solving (through branding and design) where we solve business problems through creative solutions. And the second is free-form creativity where you don't have a brief, no one is asking you to create anything but you're doing it because you can't not (do it). My career is mostly Branding/Design problem solving while my life is full of free-form creativity. At times they overlap, and that is joyous.
Where do you find your best creative inspiration or energy? If I may be ridiculously broad at first - from everything around me. I love the metaphor (or tool-based idea) of looking at life through a cropping tool. Everything you see, hear, smell, taste can be inspiration for creative inspiration. If I put a creative problem in my head to solve - naming, logo, design, brand story - anything I encounter during the day through my 5 senses will trigger a thought. The thought will lead to an adjacent idea that leads to something unexpected that becomes the start of the solution to the creative problem.
What's one piece of creative advice or a tip you wish you'd known as a young person? Be nice to everyone. I have found that being good at what you do is the cost of entry to just get a job. But, being a good people person, being kind and empathic with others, being a good listener, being that kind of person people want to be around, is the harder part. In the end, everyone wants to work with someone they enjoy working with. Your co-worker now could become your future client. Your current client could become your future boss. Be nice to everyone.
Who (living or dead) would you most enjoy hearing speak at CreativeMornings? Philippe Starck. His designs have no boundaries. He just creates. From hotels and restaurants to furniture to motorcycles and 'democratically designed' affordable everyday objects. He is a designer.
What keeps you awake at night? The restriction of 24 hour days. As long as I'm at it, the restriction of 7 days a week, 365 days a year and only 92-96 years of life (a projection). Life is so amazing and there is so much I want to do while on this earth, that at times it seems that sleep gets in the way. I feel like I'm just getting started.
What myths about creativity would you like to set straight? That there is no 'magic curtain' that a creative goes behind for three weeks then pulls back the curtain for the reveal to the clients brief. Yes, branding and design has a subjective element, but it is also actionable and measurable. A brand's mission and promise should be able to be broken down, each word of it, into a mini-action plan of the future of the company and who they stand for. Not just pleasant words and images, but words and images that create an ownable brand that can create emotional connections with future brand fans.
What was the best advice you were ever given? I presented an identity system to a client once and I did the usual presentation method of bracketing. Three options, from closer in (to where they are now) to a medium stretch to a further out visual stretch. And of course, I wanted the client to pick the middle one, thinking she'd think that the closer in one was too close to where they were and the further out one was too risky. But, she chose the closer in/conservative one. "No," I said, "you picked the wrong one" as I pointed to the 'right' one, the middle one. And she taught me a lesson I will never forget, "then why did you show it to me?" From then on, no more tricks. I've only showed what I believe in.
Favorite quotes from this talk See all
"

Who we are is really the perception of who we are from others. — Stanley Hainsworth
added by
Emerline Ji
"

How do I want to feel today? — Stanley Hainsworth
added by
Emerline Ji
216

Lovely Attendees






see everyone