Sindhoor Pangal
January 21, 9:30am - 11:00am IST. Hosted at Cafe Buzzinga
part of a series on Anxiety
About the speaker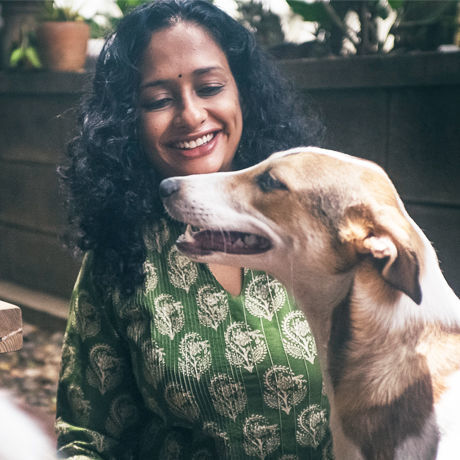 Sindhoor is a canine behaviour consultant and educator in Bangalore. She has been studying dogs for several years under highly respected global experts like Turid Rugaas and Julia Robertson. She is the country representative for Pet Dog Trainers of Europe (PDTE and also the founder of Bangalore Hundeskole Academy (BHA), a premier education facility which offers one of its kind year-long certification courses on canine behaviour. Sindhoor is also currently undergoing training to become India's first Canine Myotherapist and is writing a book on the topic of canine behaviour and well-being. She recently presented her study on street dogs at the PDTE Annual Conference in Durham, UK and has been published in the International Association of Animal Behaviour Consultants Journal (US) and Pet Professional Guild blog (US). BHA is also an affiliate of the International School of Canine Psychology. Sindhoor used to be the editor for PDTE and a columnist for two years for Bangalore Mirror. While she wears many hats, being mommy to two amazing dogs - Nishi and Tiggy, whom she considers her inspiration and her greatest teachers, is her favourite role.
Local partners
Hello! I am Sindhoor and I greet you on behalf of the BHA family. Our courses are such intense personal journeys of people with their dogs, that we can't help but bond as one big family. Try out one of our courses and you'll see what I mean. This site provides you with with all the information you will need to understand our courses: our approach, teaching philosophy, course content, application process, dates and just about anything else you need. If you still have questions, check out the FAQ. And of course feel free to contact us with queries. I sincerely hope that you will find a course that is just right for you in here and you will soon join our family at the Bangalore Hundeskole Academy!
Cafe Buzzinga is the only place in East Bangalore, where you can have an English breakfast at 6:00 PM and not feel guilty. Come by to your favourite neighbourhood, pet friendly cafe for a freshly ground cuppa or an evening with friends for some wine!
Crafted for pet parents by pet parents, TailTales is a squad of pet loving moms and dads building a support system for you and your loving pets. We bring your pet's ecosystem to your fingertips, so all you need to do is shower your pet with unconditional love and care. TailTales brings together an exceptionally talented community of pet behaviourists, caterers, vets, groomers & sitters who help you monitor, manage and celebrate your pet's complete well-being.
Additional details
"I was diagnosed with anxiety a few years before I started working with dogs. However, it was only after I started working with them, did I truly understand my condition. In this talk, I will attempt to utilize the trappings of anxiety to help you understand dogs and their behaviours, including why they bite." - Sindhoor Pangal
Location
Hosted at Cafe Buzzinga
Bungalow # 1, Bright Farm, Thubarahalli, Varthur Road, Whitefield, Bangalore. Ph. 080 4206 0527
Bangalore, Karnataka 560066
When January 21, 2018
9:30am - 11:00am