Shimul Javeri Kadri
January 18, 10:00am - 12:00pm IST. Hosted at G5A Foundation for Contemporary Culture
part of a series on Roots
About the speaker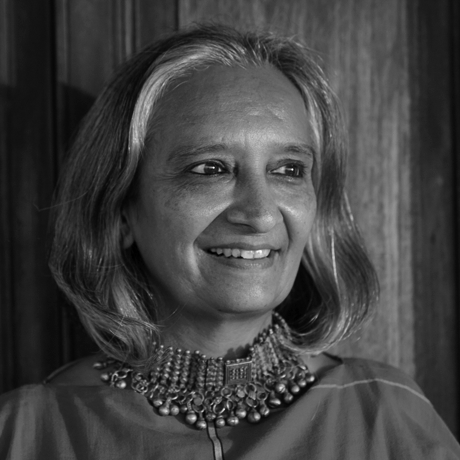 Shimul Javeri Kadri founded and nurtured SJK Architects towards its current avatar as a firm that values culture and climate and builds gently in the context. The firm has won several awards nationally and internationally including the World Architecture Festival Award for the Nirvana Films Building in Bangalore and the Prix Versailles Award for the Dasavatara Hotel in Tirupati.
She pursues several causes - building naturally and lightly, and supporting equality through education and feminism. She is a Trustee for Save the Children India and for Akshara, where she has been actively steering education and woman oriented projects. She is also on the Advisory Committee on Gender for the MCGM.
The added responsibilities as an occasional writer, jurist, speaker and teacher are the outcome of her overwhelming desire to present, engage and discuss her passions and concerns of 30 years of practice!
Local partners
The G5A Foundation for Contemporary Culture is a not-for-profit organization, that supports contemporary art and culture, good governance, and sustainability. Through a series of diverse programs and projects G5A is committed to nurturing a vibrant, safe, and inclusive platform that encourages all that is new, creative, and just – in thought and expression.
In doing so, their endeavour is to enrich people's lives, rebuild resilient and responsible communities, and strengthen the cultural fabric of Mumbai.
When we imagined PORT, we wanted it to be a space where YOU, our guest, would always feel welcome, comfortable, and relaxed. A home away from home, kind of. A friend's living room maybe. Where the conversation is engaging, the food is delicious, and the drinks are flowing. And most of all lots of warmth. Warmth of the familiar along with the possibility of the new.
Location
Hosted at G5A Foundation for Contemporary Culture
Laxmi Mills Estate, Shakti Mills Lane, Off Dr E Moses Road, Mahalaxmi (W)
Mumbai, Maharashtra India 400011
When January 18, 2020
10:00am - 12:00pm