Robin Hinsch - Surreal World
January 25, 8:30am - 10:00am CET. Hosted at Betahaus
part of a series on Surreal
About the speaker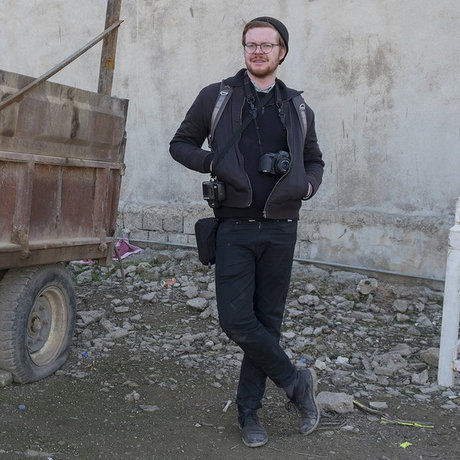 Robin Hinsch was born in 1987.
In his work he mainly focusses on social issues and of self-experienced subjective,intuitive storytelling and combines his photography practices with film collages and installation techniques.
Robin Hinsch lives and works in Hamburg. His work has seen him travel to Ukraine, Poland, Russia, Georgia, Iraq, Syria, Turkey, Malaysia, Senegal, Ghana, Singapur, Marocco, Australia, the USA and a lot of other countries.
Robin Hinsch studied Photography at the HFG-Karlsruhe in the Class of Prof. Elger Esser, at the HH-Hannover, HfBK Hamburg and at the HAW Hamburg in the Class of Prof. Vincent Kohlbecher and Prof. Ute Mahler where he earned his BA in Photography. Currently Robin Hinsch continues his studies at the HAW Hamburg in the Master Program in the class of Prof. Vincent Kohlbecher.
His work has been awarded with the International Photography Award, the European Photo Exhibition Award, the Canon Profifoto Förderpreis, the Art Award of the Hamburger Börse, has been shortlisted at the Leica Oskar Barnack Prize and the Lucie Awards and was nominated fort he Prix Pictet and the Henry Nannen Prize, to name a few. Since 2016 he is an elected member of the Deutsche Fotografische Akademie / German Photographic Society (DFA).
Local partners
Our mission for the last 45 years: perfection and simplicity.
"Peter Schmidt" is not just a name, but also a testament to design principles and an enduring approach to work that dates right back to our foundation in 1972: A holistic partnership which is both trustworthy and responsible that delivers maximum clarity in design.
We always focus on the brand and work interdisciplinarily to deliver all the services required to maximise its success, from a first market analysis right through to an eventual global rollout, while a collaborative partnership combined with clear communication prevails at the core of each of our projects.
IPS. Fotohandel Kleiner Kielort GmbH wurde 1972 als Industrie Photo Service, Foto- Groß- und Einzelhandel, am Grindelberg in Hamburg gegründet. Seit 2003 sind wir auf dem zentral gelegenen Medienhof Kleiner Kielort. Wir verstehen uns als Full- Service-Dienstleister rund um Foto- Video- und Präsentationstechnik. Im Mittelpunkt unseres Handelns steht die Fachberatung. Beraten werden Sie ausschließlich durch Fotografen und qualifizierte Fotokaufleute. Wir unterstützen Sie nicht nur bei Ihrer Kaufentscheidung, auch After-Sales dürfen Sie mehr von uns erwarten.
Additional details
Die Veranstaltung findet auf deutsch statt / This talk will be in German 🤯 — Surrealism is most known as an art movement that contained irrational, disjointed images, like the melting clocks in Salvador Dali's paintings. Surreal images typically contain a bizarre mix of elements that are seemingly unrelated or difficult to understand. Surrealism isn't limited to art. We encounter surreal moments in our daily lives, and in the 21st Century, more than ever in politics and modern conflict.
Robin Hinsch is a documentary photographer. In his work, he mainly focuses on social issues, intuitive storytelling and combines his photography practices with film, collages and installation techniques.
His work tries to examine the ongoing metamorphosis of our world and dives into the most challenging circumstances of modern time, like forced migration, ethnic cleansing, political persecution, and war. Robin's honest lens is able to capture the brutal nature of mankind and offer portraits of conflict zones that mixes the violent with the surreal and desperately sad.
Location
Hosted at Betahaus
Eifflerstraße 43
Hamburg, 22769
When January 25, 2019
8:30am - 10:00am