Ricardo Iamuuri Robinson [VIRTUAL]
May 29, 8:30am - 10:00am EDT. Hosted at your computer! This event will be held virtually.
part of a series on Nature
About the speaker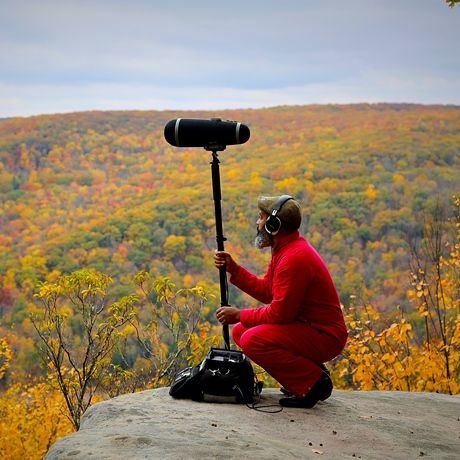 RICARDO IAMUURI ROBINSON is a conceptual sound artist. His works attend the patterns and forms of sound and space, using deep listening techniques and reproduction technologies as creative methods for engaging sonic influences and reforming social self awareness. Ricardo Iamuuri is also an audiovisual artist and founder of the Sonarcheology art practice. A creative method merging improvisational listening with environmental archeology. His art attempts to re-listen to what he calls "the ancestry of sound."
"The listener is always the composer." ~Ricardo Iamuuri
Ricardo Iamuuri's works have been featured in films: Children of Nan, by Alisha B. Wormsley Sustainability Pioneers, by Kirsi Jansa East of Liberty, by Chris Ivey The Rehabilitation Of The Hill, by Demetrius Wren
Ricardo Iamuuri's live performances and sound installations: Mars is Underwater, at the Pittsburgh Gallery Crawl and Afronaut(a) 2.0 at Wagman Observatory 2015, A Brand New World: Kill The Artist, at The New Hazlett Theater 2016 Sound installations THE STEEL-FONICS, at The Carrie Furnaces National Historic Landmark 2015, GEM Way, The Garfield Looking Glass Project 2016, The People Are The Light, Carnegie Museum of Art's Hillman Photography Initiative 2017, Civil Rights & Civil Wrongs, at The Mattress Factory 2018, Streaming Space, at Market Square Art Public Art 2019, What We Don't Talk About, curated by Becky Slemmons, Pittsburgh Cultural Trust, at 937 Gallery 2019.
Local partners
Additional details
We're staying virtual in May!
Go ahead and download (or update) Zoom before our event Friday morning. Get a feel for Zoom and test your audio/camera. Make sure to join us right at 8:30 AM to participate in the community gloriousness. We'll be using breakout rooms to partake in virtual hugs, high-fives, and other shenanigans to keep us connected. If you're popping on later, our intro and speaker start at 9:00 AM.
This will be more than a live-streamed talk. Our team is working hard to keep our cute community engaged and connected in unique ways during this time, as we do every month! We're going to embrace this form of gathering and the beautiful shape it'll take with all of you.
Location
Hosted at your computer! This event will be held virtually.
Pittsburgh, Pennsylvania
Pittsburgh, Pennsylvania United States
When May 29, 2020
8:30am - 10:00am