Rebecca Serna
October 30, 9:00am - 10:00am EDT. Hosted at ZOOM
part of a series on Transit
About the speaker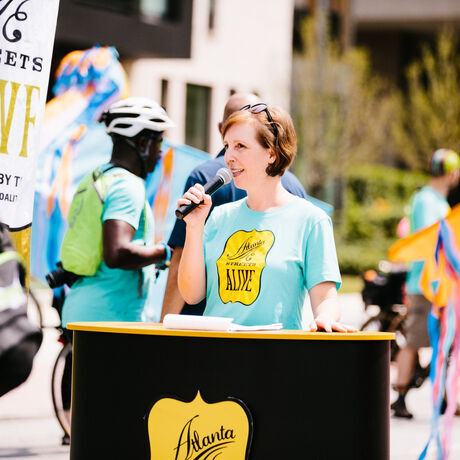 Rebecca Serna has a Master's degree from Georgia State's Andrew Young School of Policy Studies in Urban Policy in Planning and Nonprofit Management. Serna was a bike/ped intern with the Georgia DOT and draws on her experience as a Fulbright in Bogotá, Colombia, where she studied participatory planning practices and innovative public transportation projects. She is currently the Executive Director at Atlanta Bicycle Coalition.
Awards include 2019 Advocate of the Year/League of American Bicyclists, 2015 Woman of the Year/Women in Transportation Seminar, 2013 Advocate of the Year/Alliance for Biking and Walking, and the 2013 Longleaf/Georgia Conservancy.
She lives in SE Atlanta with her husband and three sons, loves to read, dance, and grow food, and looks forward to the day when biking for transportation is unremarkable and everyone can move safely, easily, and sustainably throughout the city.
Local partners
Additional details
Last month's Zoom event was incredible (definitely not some boring old Webinar) — we had breakout rooms, a scavenger hunt, dancing, a live Q&A, etc etc… We hope to bring that same energy to you again this month.
This month's event will be at 9am on October 30th, exclusively via Zoom, so be sure to get your clickers ready because this event will be limited capacity.
Also, it wouldn't be an October event without a costume contest, so we will be doing our first ever Virtual Costume Contest this month. We are working on some INCREDIBLE prizes that will make getting dressed up in full costume at 9am totally worth it.
Winners will be chosen during our Zoom event  (so, think waist up + a fitting zoom background perhaps when planning your costume). We can't wait to see what you come up with!
Location
Hosted at ZOOM
ZOOM
Atlanta, Georgia United States 30312
When October 30, 2020
9:00am - 10:00am