nyc
What are FieldTrips?
FieldTrips are meetups to interact, learn and collaborate in an effort to level-up your creative life.
We're limiting these events to only 25 people, they're like an intimate dinner party. Your absence will be felt so please make sure that you can definitely attend if you sign up. Also, we're in the prototyping phase, so come with an open mind and be prepared for anything.
Thanks for participating! We're lucky to have you.
Our Bodies Our Selves: Feminist Slogan Tee shirts – Wood type / Letterpress workshop
June 3, 6:30pm - 8:00pm EDT. Hosted at SVA Letterpress Studio
About this FieldTrip
Participants will print wood type feminist slogans onto T-shirts and bags.
Participants should bring T-shirts or tote bags with no seams on the front for printing– we will have some paper too. Feel free to bring something to eat or drink for a potluck snack
Dikko Faust, founded Purgatory Pie Press, one of the longest running artist/publishers. He is a letterpress printer/typographer who teaches at SVA and has taught at Cooper Union, Princeton, Center for Book Arts. He will be teaching "Letterpress: An Introduction" Thursday evenings (6-9:30) June 6 to Aug 15. Info here.
Photo Credit: Celeste Sloman, The New York Times
–
View all upcoming FieldTrips or submit an idea to host your own.
Organizer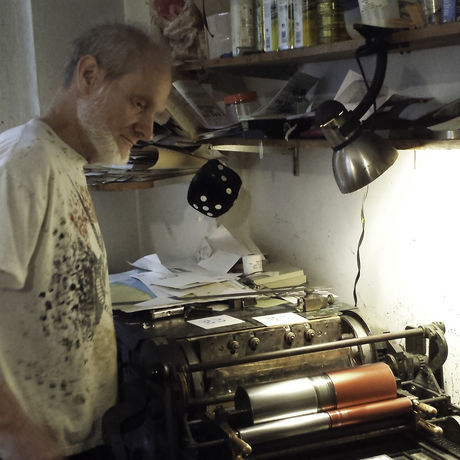 Dikko Faust
Location
Hosted at SVA Letterpress Studio
133-141 West 21st Street, 5th Floor
New York, New York United States 10011
When June 3, 2019
6:30pm - 8:00pm