Otis Mensah – Writer, hip-hop artist and Sheffield's first Poet Laureate
–
part of a series on Divergent
About the speaker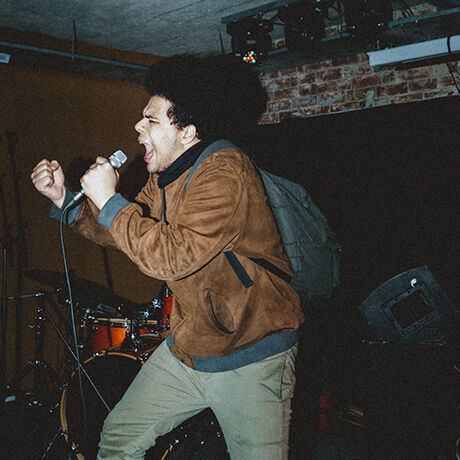 Described by previous CM speaker and Sheffield legend Magid Magid, as "all that is great about Sheffield – he's dynamic, skilful and radical", we are thrilled that Otis Mensah is joining us this month for Divergent! He's been on our wish list for some time and we can't wait to learn more about his unique performance style and what's he's been working on over lockdown.
Otis is a writer and performing artist with an alternative take on Hip-Hop music and abstract poetry. Focussing on art as a means of documenting journeys of introspection, Otis' work aims to demonstrate the personal and political power of vulnerable expression. Taking influence from the rhythmic and expressive freedom of Jazz and using aesthetic language as an instrument to solo through themes of racial identity, masculinity and coming-of-age, Otis' music exhibits a blend of sonic minimalism with vocal and lyrical experimentation.
Building on earlier work and a tenure as Sheffield's first Poet Laureate, Otis continues to release music independently with his lockdown project #OtisMensahExists, a series of new songs and animations exploring existential angst in the digital age. The first song from the project Breath Of Life was premiered on Worldwide FM and features Samuel T. Herring of Future Islands, followed by The Thinks making appearances on Bandcamp Weekly and BBC Radio 6 Music.
Throughout his career, Otis has performed at Glastonbury Music Festival, We Out Here Festival and Shambala Festival as well as opening for the likes of Benjamin Zephaniah, Arrested Development, The Sugarhill Gang, Wu-Tang Clan affiliate Killah Priest, Mahalia, Lowkey, Open Mike Eagle, Chali 2na and toured with the likes of KOTA the Friend and experimental Jazz-Rap legends Blu & Exile.
As the first Hip-Hop artist to be awarded a poet laureate title in the UK, he wants to use the position to break down barriers, smash the stuffy stereotype, and remind people that poetry is meant to be for the people. The Guardian
Otis Mensah is arguably the most productive rap-poet working under lockdown right now. Otis' sound is a distinct one, with an unbridled stream of consciousness over low-pressure beats; he describes it as a sub-genre of alternative hip hop, namely: "Art-Rap". Wordplay Magazine
Otis Mensah continues to cement his place as a formidable voice in the world of poetry and hip-hop. EARMILK
Otis has released increasingly daring and abstract work. CentralSauce
Local partners
Additional details
LIVE AND ONLINE
Join us via Zoom for our first event of the year.
The approximate schedule for the morning is:
8.30am (UK time) – doors open (metaphorically, of course) with a welcome from our host, Leanne
8.35am – Breakout Rooms (3 minutes). Your chance to have a little chat and a catch-up over your coffee. A question will be set to help you get started.
8.40am – NEW FEATURE ALERT Our team photographer Joe Horner running his own mini-photography segment. This month Joe will be talking us through how to take some flat lay photographs – perfect if you'd like to take some work in progress shots or food photography. It's going to be great way to engage, learn and share! If you'd like to take part, have some items ready that you'd like to shoot.
8.50am – sponsor and team thanks
9am – Interview with Otis Mensah
9.25am – Q&A. Your opportunity to put your questions to Otis!
Similar to our in-person events, this is a ticketed event so make sure your are registered to attend.
The Zoom link will be shared with all registered attendees around 8pm the evening before the talk. If you register after 8pm we cannot guarantee that we will be able to send you the link. The link will be emailed to the address you have registered with us.
Make sure you're following our socials for the latest event information!
Location
Hosted at This is a virtual event, you will receive a link to attend in your registration email
When
–