Olivia Ortiz
August 30, 8:30am - 10:00am CDT. Hosted at Burnt Nopal Creative Studio
About the speaker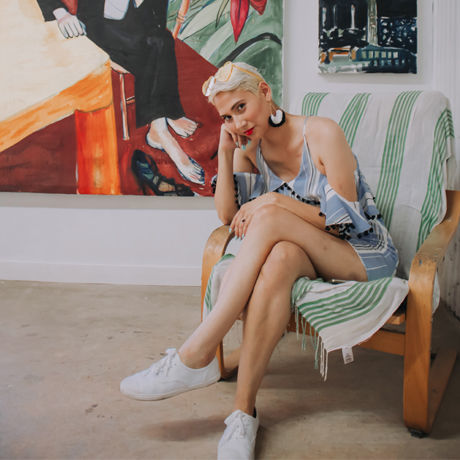 Activist, educator and CEO Olivia Flores Ortiz has dedicated herself to the development and enrichment of her community. Heavily influenced by her grandmother growing up in San Antonio, Olivia began her professional career as an educator, teaching English and Special Education. During her nine years in the classroom, she began to see the needs not only of her students, but of the larger San Antonio community. Social justice, accurate representation and speaking authentically to the Latinx community became the driving forces behind her work. In 2009, she met fellow teacher Cruz Ortiz. Married in 2012, they began what has become a decade of collaboration — so far.
The couple founded Snake Hawk Press in response to demand from those seeking commercial versions of his work. Olivia began working on individual projects for Snake Hawk Press, continuing to take on responsibility until she ultimately served as CEO. In addition to keeping the business running, Olivia spearheaded many individual projects.
Today, Olivia serves as CEO of the couple's latest collaboration, Burnt Nopal, which offers a full range of services around branding, design and experiences. As with Snake Hawk Press, this latest venture stems in part from commercial demand — companies seeking to create authentic brand, marketing and experiences — as well as a desire by Olivia and Cruz to expand the work they offer.
As part of her community work, Olivia serves as a proud board member of both Eva's Heroes, a non-profit founded by Eva Longoria dedicated to enriching the lives of those with special needs, the South San Antonio Chamber of Commerce, and the Bexar County Child Welfare Commission.
Local partners
Burnt Nopal offers a full range of services around branding, strategy, design and experiences, bringing Cruz Ortiz's distinctive "Nuevo Texas" aesthetic to clients seeking an authentic look and feel to their brand, marketing, fashion, interiors and events.
Estate Coffee Company is a small batch, craft coffee roaster and espresso bar in downtown San Antonio, Texas. We believe in sourcing the best coffee and ingredients for our beverages by working with family-owned importers and local food purveyors. We try to promote transparency by having the roasting and brewing methods front and center in our 1,200 square foot space with seating for you to watch and feel involved with the coffee roasting process.
TEKsystems supports interactive, creative and digital initiatives for clients ranging from digital agencies to Fortune 3000 companies by supplying skilled design, development, functional and marketing technology resources and solutions. As TEKsystems, we thrive at the intersection of technology and marketing thru providing resource-based solutions in the Digital, Creative, and Interactive space. Our San Antonio team specializes in providing local solutions with the backing of a national footprint ranging between web/mobile development, design, content strategy, and marketing technologies.
Location