Oliver and David AKA. Side by Side
June 29, 8:30am - 10:00am UTC. Hosted at Kelham Island Museum
part of a series on Craft
About the speaker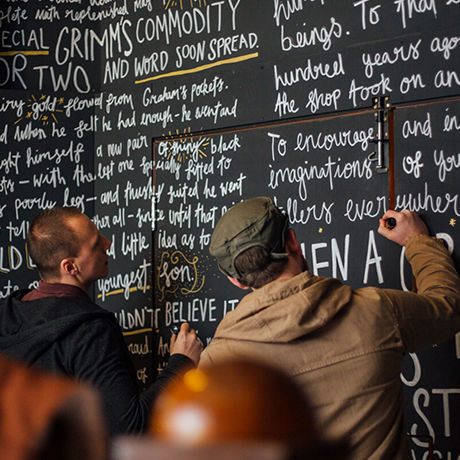 Side by Side is a design studio specialising in identity and bespoke typography. They create exciting brands for forward-thinking companies. They like to blur the boundaries between work & play, we've found that's where the most exciting things happen.
They will talk through how they use craft in their projects, and how it was heavily involved in the super project Grimm & Co, a Magical Apothecary in Rotherham.
'We loved Jeremy's story, and so decided to write it on every wall in the 'Imagination Room'. This room is the first area humans enter, once they travel through the secret door on their way to the writing center. It took 3 of us 3 full days and approximately 40 Posca pens to complete - but well worth the effort.'
They will also bring the PLAY golf course for people to play on!
Kelham Island Museum will be opening their doors early for us. Located in one of the city's oldest industrial districts, the museum stands on a man-made island over 900 years old. Our interactive galleries tell the story from light trades and skilled workmanship to mass production and what it was like to live and work in Sheffield during the Industrial Revolution.
Talking craft in a home of craft. Perfect. See you there.
Local partners
Sheffield Institute of Arts is an integral part of this vibrant and creative city. Opened it's doors in 1843 to supply creative support to the region's manufacturers, in a bid to stay ahead of the growing global competition. This relationship with the commercial and industrial continues today. Our students enjoy superb access to the working world and the community of experts they will emerge into.
For many years, HLM has cultivated a 'one team' culture with staff firmly at its core. Design excellence and client satisfaction remain critical to our mission, and we couldn't deliver this without a close-knit team of dedicated and enquiring minds. We work internationally as one, sharing best practice, knowledge and experience across the globe.
Location
Hosted at Kelham Island Museum
Alma Street
Sheffield, England S3 8RY
When June 29, 2018
8:30am - 10:00am